My Australian Journal Feb 2007
Thursday 1st February 2007 - Day 14
Went to Movie world theme park. Kevin and I again went on all the rides. The best one has to be Superman. This ride accelerates from 0-100km/hour in 2 seconds going uphill!
The day went well and quite fast.
In the evening we were going to have Pizza, but when we got to the shopping area we found a take away curry house and a subway. So Jo and I got curries to take back to the site, and Kevin got himself a subway.
Distance Travelled 15 kms
Friday 2nd February 2007 - Day 15
Packed up at about 10am, and started driving to Brisbane. For the first time since we started our trip in Australia we have a destination in mind - The oldest Koala sanctuary in Australia founded in 1927.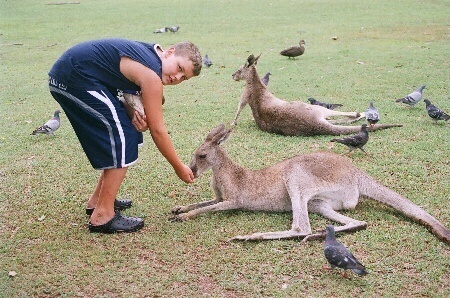 Kevin feeding Kangaroos at Lone Pine
They have over 130 Koalas in residence, along with kangaroos, wallabies, cassowary's, lorikeets, birds of prey, dingo's, wombats and lots of reptiles.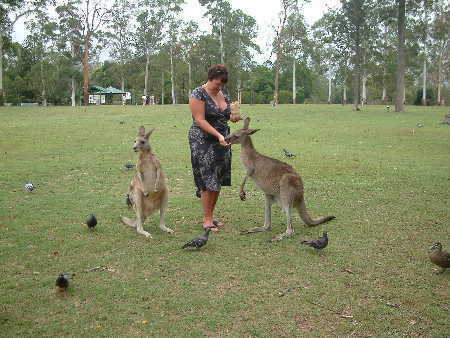 Jo feeding Kangaroos at Lone Pine
Jo had her picture taken with a koala and a crocodile, Kevin had his taken with a wedge tailed eagle.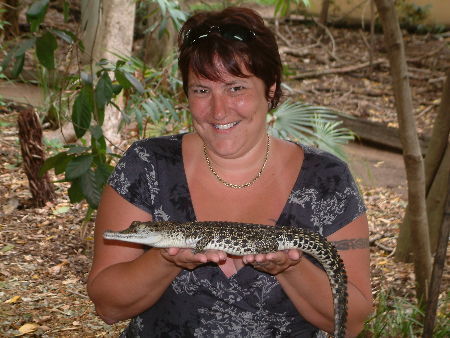 Jo and a little snapper
We left the park just before closing time, and found our way back to the pacific highway and continued driving north.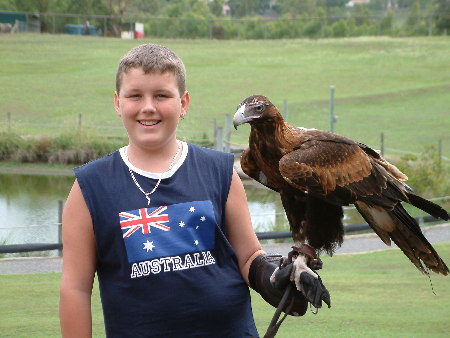 Kevin with an wedge tailed eagle
The weather closed in and we ended up driving up though heavy rainstorms. Darkness fell very early because of the weather.
Big Lizard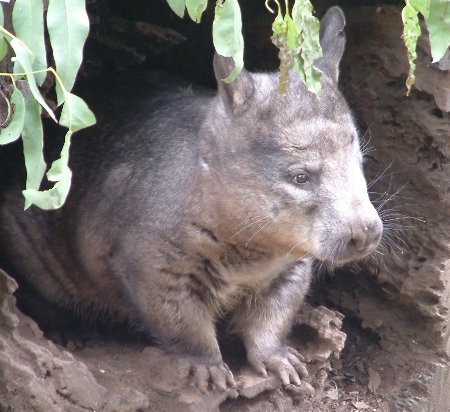 Wombat - My Favourite Australian Animal
Stopped for gas at Noosa - when we camped we found that I left the petrol filler cap on the pump.
Ended up in town called Tewantin, just north of Noosa Heads. Booked into a site called Bougainvillia. Spent over 2 hours trying to get Kevin to do some homework. We have now told him that we will be staying in the van all day tomorrow until he gets some of his work caught up.
Had to let Kevin back into the van in the night as the rain was leaking into his tent.
Distance Travelled 238km
Saturday 3rd February 2007 - Day 16
Spent the whole morning working on Kevin's homework. We cannot get into his head that if he works on it without messing about and complaining it would be easier on us all, and he would get it finished more quickly.
Went back to the petrol station where I left the petrol filler cap, luckily someone had handed it in, rather than take it (I think its because its an unusual size and would not fit many other vehicles.)
Drove into the town of Tewantin and got some lunch at a hotel, then sat in the sunshine for a while. Went shopping, came back to site and had a BBQ and Kevin got some more of his homework done. Tried to get some diving booked, or some fishing trips for Kevin. Not much luck, as the weather reports are not good and they are expecting heavy seas. We sat on the Marina eating, drinking and watching the river life and the birds flying around. There are loads of huge Pelicans here.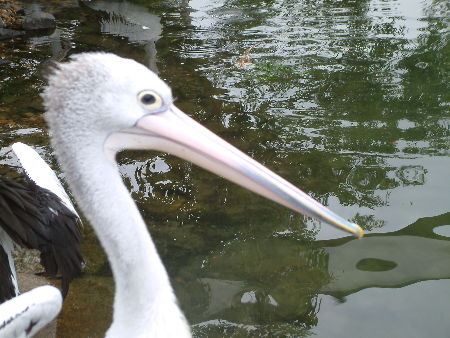 Pelican
While we were cooking the BBQ we were visited by a tiny frog, about the size of a 50 cent piece.
There are lots of Lorikeets flying around the site, its almost as if they are playing tag, as they are darting round from tree to tree over our heads.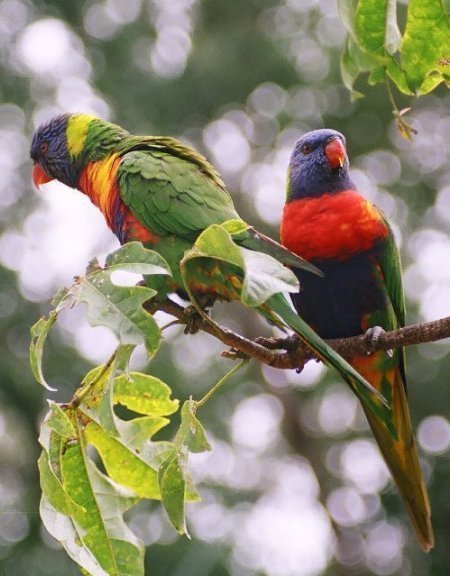 Lorikeets in the camp site
Distance Travelled: 22kms
Creatures seen: Tiny Frog, Ibis, Scrub Turkeys, Honey eaters and lorikeets and lots of un-identified birds.
Sunday 4th February 2007 - Day 17
Well the drought has certainly broken, there are 13 flood alerts in the area, and lots of reports are coming in of towns being flooded and reservoirs filling for the first time in 7 years! Its put a bit of a damper on our holiday, but we cannot begrudge the aussies some water.
We are going to the under water world at Mooloolaba today, as its an indoor exhibit and we can get out of the rain. The temperatures are still holing up in the high 20's, so its still nice here.
We visited the aquarium at underwater world, I think that this has been Kevin's favourite day of the holiday. He is a typical teenager - whatever we try to do for him he is bored. He wanted to watch the seal show twice - these seals were probably the best trained seals I have ever seen, and he spent ages talking to the girl running the rock pool exhibit.
Went for lunch at the Hogs breath Cafe, and found a site for the night just outside the aquarium car park.
Site has wireless broadband, so we downloaded our mails - well over 2000 junk mails as usual, and Jo got online to chat to some of our friends. I will have to do some work on Monday, as I have a few customers waiting for jobs to be finished.
Distance Travelled: 49kms
Creatures seen: Sharks, Rays, Crocs, Otters, seals, turtles, seahorses and sea dragons and hundreds of different fish. On the camp site there are the usual scrub turkeys, lorikeets and honey eaters.
Monday 5th February 2007 - Day 18
All up early - just after 7, today is a work day... Washing to be done, Shopping to fetch, and some site work for customers.
Kevin did his homework, and then got a free loan of a boogie board from the manager of the camp site, so he was in the water just after 9.
Tuesday 6th February 2007 - Day 19
Went to Maroochydore for Kevin to have some surf lessons.
I visited the doctor again for an update on my ear. The infection is going down, but is not gone yet. I am allowed back into the water but not allowed diving yet. I have to keep putting drops into my ear until next Monday, then if my hearing is back I can dive, if not I may need to get my ears syringed.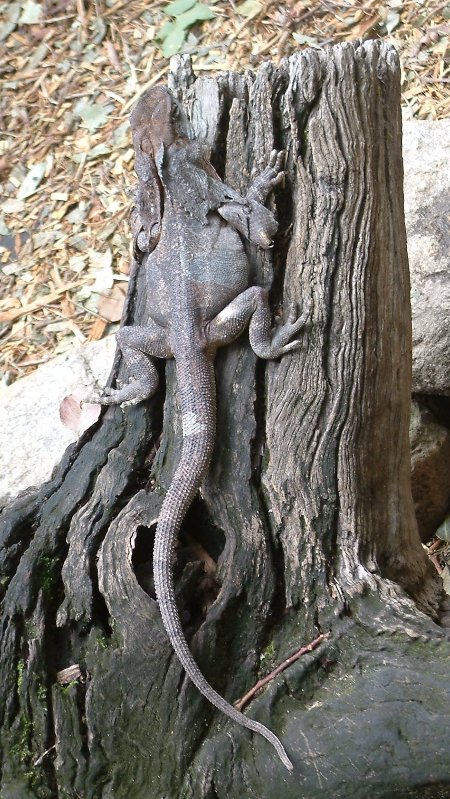 Lizard on a Tree
Went back to Mooloolaba and went out for dinner at an Italian Restaurant. We all had nice meals.
Creatures seen: Birds, Lizards,
Wednesday 7th February 2007 - Day 20
A quiet day, me working on web sites for customers and Kevin and Jo lazing on the beach. I went and joined them in the water for a little while.
Jo and I went for a drink in one of the bars on the wharf, then we got some chicken and salad for tea.
A very quiet uneventful day.
Creatures seen: Birds and our first possum
Thursday 8th February 2007 - Day 21
Drove back to Tewantin, so we can join a safari to "Rainbow Beach and a Rainforest"
We found a new campsite and set up Kevin's tent, then headed for the marina where were to meet the guide. We were an hour early, so we had a drink and watched the boats come and go.
The guide "Terry" was a young guy who has started out on his own doing these tours in the last season. He has a new, large, comfortable 4 wheel drive which had enough room for 6 passengers in comfort.
We set off catching the ferry across to North Shore, then drove along 40 mile beach - a regulated road! The beach is one of the widest and straightest in Australia, and is the only piece cleaned twice a day.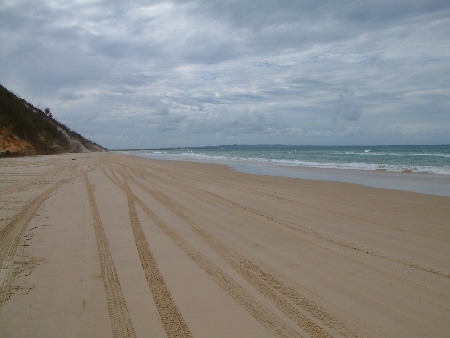 The main road on 40 mile beach
We veered off the beach after about 30 miles and headed inwards and upwards into the sand dunes - the dunes reach 260 metres high, and 100 metres below sea level. They are the second highest coastal dunes in the world.
The dunes are very special because they are one of only 2 places in the world where there are tropical rainforests growing on sand dunes.
We saw some incredible trees where the roots were like huge blades. Very tall hardwood trees, strangler vines which have killed their hosts, others which are killing their hosts. Because it is a rain forest the undergrowth is very dense, and the trees all grow very straight and tall as they fight to reach the light.
On some of the trees we saw lots of squiggly lines, Terry gave us 2 explanations for these, one he reserves for Americans - The lines are ancient Aboriginal writings where they left messages to each other, the other explanation (the truth) is that a beetle lays its eggs just under the bark of the tree. The larvae then gets nourishment to grow from eating the tree just under the bark, the top of the line is where the new beetle ate its way out and flew away.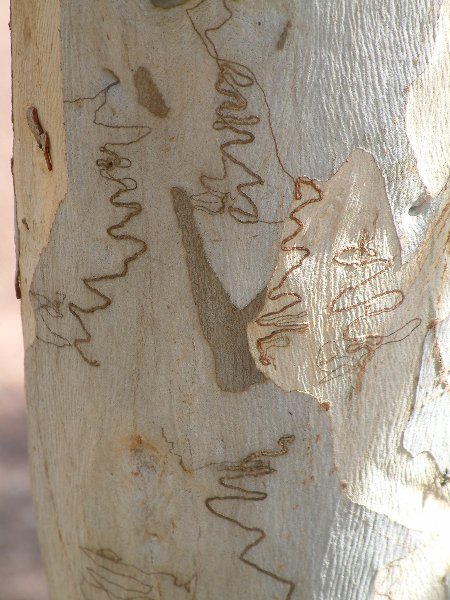 Aboriginal Tree Messages
Just before we left the rain forest we saw a wild black, Dingo. Black dingos are very rare with less than 5% of the population being black.
We also met a family with a Jeep who had broken their radiator. He wanted a tow out of the forest as he has no road side recovery agreement. The problem is that it would be too difficult to tow him on a sand road. He refused the offer of us calling him help, as it would cost him $A500. We have no idea if they got out, or if they are still sitting in the forest.
We saw our first wild dingo here as well. It was a black one, these are quite rare, as less than 5% of the population are black.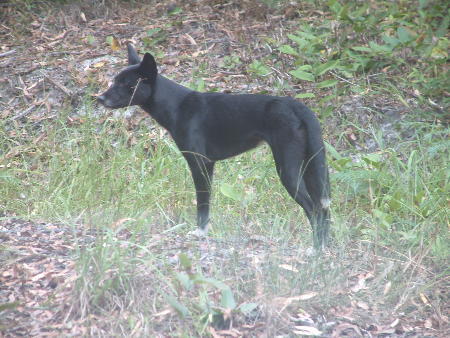 Rare Black Dingo in the wild
Next we went to Rainbow Beach, so called because there are many colours of sand, Reds, browns, oranges, golds, blacks, whites. The colours are created by the rain leeching out minerals from the sand.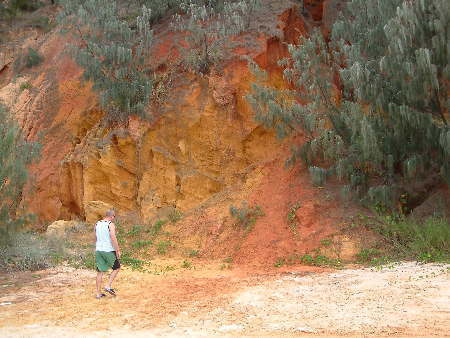 Different coloured sands on Rainbow beach
We stopped to take a picture of the sands and have a swim, while we were changing, we spotted a big Goanna. Took a whole load of pictures of it until it got bored and wandered off up the dunes.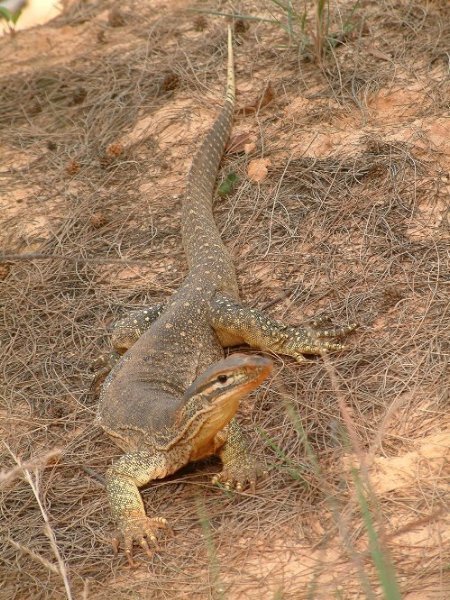 Goanna on the sand dunes
Visited the oldest structure in the area - the lighthouse which was built in 1884. At first it was manned by 3 keepers who lived at the point with their families and a school teacher. The light is now fully automatic and run on solar power so there are no longer any keepers. The area is now looked after by a conservation group based in Noosa. Who let the old keepers cottages out for $A300 a week, as long as the holiday makers do 2 hours of conservation work a day. While we were standing at the lighthouse we looked down into the water and watched Turtles browsing in the sea weed.
On the drive back we stopped to pull a PiPi out of the sand. These are a type of shell fish that are found in their thousands in the area. They have been available in great quantities for thousands of years, and aboriginal midden's have been found full of the shells. We saw a Sea Eagle hunting over the downs as well.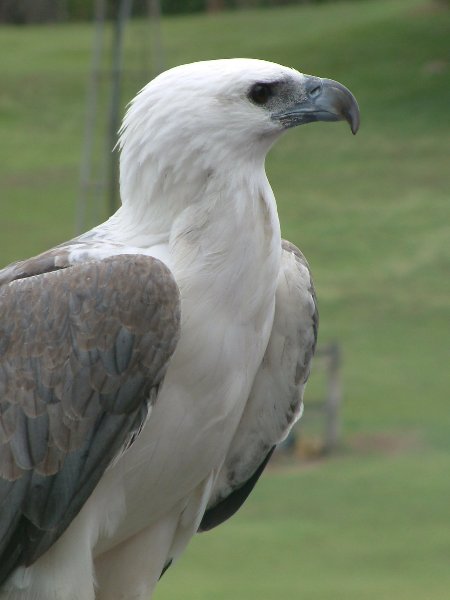 Sea Eagle
Not long after we were flagged down by a woman holding a baby. Her husband had got bogged down in the soft sand on one of the side roads. We spent a while helping to dig him out, while getting bitten by Marsh Flys, after we had removed a load of sand we managed to drag his 4wd out of the sand, then give him a push through the soft sand and sent him on his way.
Our last bit of excitement for the day was seeing our first Kangaroos in the wild. First we saw a large male, soon afterwards 2 groups of females, a few of them carrying Joeys in their pouches.
We then returned to Tewantin and bought some supper, returned to the camp site and ate it.
We all went to bed early, as we have to be up at 5.30am tomorrow to send Kevin off on a fishing trip.
Creatures seen: Pelicans, White Parakeets, Lorikeets, Seagulls, Terns, Magpies, Turtles, Goannas, Dingo, Kangaroo, Marsh Flys, Frogs,
Friday 9th February 2007 - Day 22
Early start for my birthday, with my Spanish phone ringing at 4.30 am, with a withheld number. I missed it because the phone was in the cab.
Then the Aussie phone went off at 5am, with the fishing company calling to say that Kevin's trip is off because of bad weather at sea.
We moved camp today, and while we were putting Kevin's tent up he spotted a huge spider on the tree behind the camper.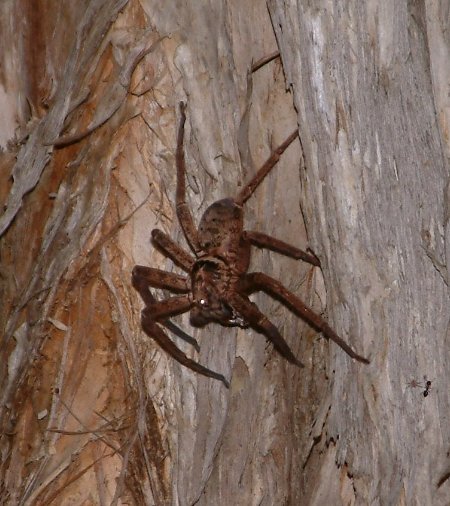 Spider on campsite
Got up at 7.15 and went into Noosa Marina to find out if we could Kevin onto another fishing trip. We visited the dive shop again, but they cannot offer anything for a few days. Weather on land not great either, so we just mooched around doing chores and shopping.
Distance travelled: 10kms
Creatures seen: just the birds
Saturday 10th February 2007 - Day 23
Had a BBQ in the evening, where we met a couple from Canada (John and Chantelle). We stayed up talking with them until about 10.30, while doing so I drank 2 bottles of wine plus a couple of beers, so I went to bed quite merry.
Sunday 11th February 2007 - Day 24
Kevin went fishing with John, so Jo and I did the laundry! Wow, what excitement. Weather still not great, so diving out of the question.
Lots of pretty birds flying around as usual, but no other creatures seen today.
Suddenly remembered that we had 13 episodes of CSI we had not watched, so we spent the evening sheltering from the rain watching a few episodes on the computer.
Monday 12th February 2007 - Day 25
Kevin got his boat trip at last. We had to have him at the marina by 7.15, so it was another early start. Jo and I then went back to camp and watched a couple of episodes of CSI. We suddenly realised that the clock had stopped and we were late for picking up Kevin. We rushed around getting the van secure for travel. We were just leaving the site when Kevin called asking where we were. We spent the rest of the day in trouble with him because he had to wait 20 minutes for us.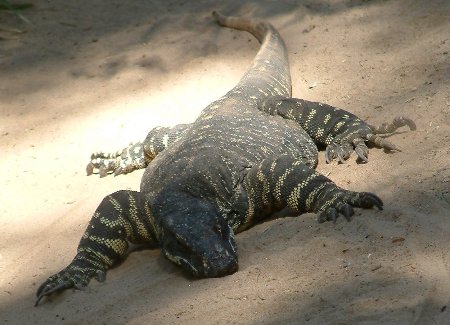 After we met him he wanted to fish some more on the jetty, so Jo and I went and had lunch in a restaurant over looking the river.
After lunch we decided to go for a walk in the Noosa heads National Park. We Saw our first Koala in the wild, also saw a couple of goanna's.
In the evening we had dinner, then I spent over an hour trying to get some money sent from my HSBC bank in England to us out here in Oz. In the end I had to get my friend Iain to send it via Western Union to a branch office 45kms back in the direction we have come from.
Creatures seen: Koala, Goannas, Spiders, Lorikeets, Huge beetle, Pelicans, Terns and gulls.
Distance travelled: 15 kms.
Tuesday 13th February 2007 - Day 26
Set off at just after 9 and headed back to Maroochydore to collect some money from the Post Office. Got there at about 11.30, as we spent over half an hour sitting in a traffic jam.
As soon as money collected we got onto the road again, heading north once more. We stopped for lunch at a town called Gympie. Thought we would try something other than the usual fast food for a change, and visited a little bakery/cafe. I opted for a steak and kidney pie and chips, Jo and Kevin both selected the pizza and chips. The steak pie was pretty good, but the chips had been cut from cardboard. Jo and Kevin's Pizzas had both been made from wooden disc and cold sauce and cheese. We left the shop and Jo went straight to McDonalds to get a cheese burger to alleviate her hunger.
Got back on the road again, and continued the journey. We had only been driving for about 10 minutes when a huge truck started tailgating us. He was so close he filled the mirrors, and Kevin could see the colour of his eyes by looking out the rear window. We were pushing the speed limit, but whenever I could I would pass other people to get a car or two between us. He would then harass those cars until he got behind us again. In the end I pulled off the road and let him go. I did not fancy ending up as a hood ornament for his truck.
We stopped in Childers and had a drink, and watched the world go by for a while. We then did the last few miles to our destination for the day, a town called Bundaburg. Bundaburg is famous for its sugar cane plantations and Rum factory.
We came here to dive, and as soon as we had found a camp site we headed into town to find the dive shop. We booked a shore dive for Jo tomorrow, and a wreck dive for us all on Friday.
We then went back to the camp and waited for a ranger to come and collect us to take us to the turtle rookery. We got there just before dark and then waited for some action from one of the nests.
We eventually went onto the beach at just after 8pm, and went to a nest that the conservationists were excavating. They had already pulled about 100 baby green back turtles from the hole in the sand.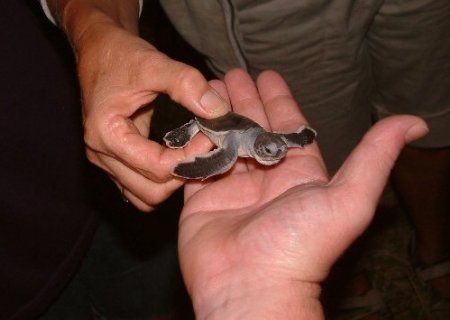 Baby green turtle just hatched
By the end of the dug they had found 121 baby turtles that had hatched, 11 eggs that were still born, and 4 eggs that were not viable. The turtles were taken in buckets to the labs to be weighed, measured and photographed. Then they took us to the beach again to watch them being released. Everyone who had torches (including Jo and Kevin) were lined up with their legs apart shining the torches up the beach. The turtles were then tipped onto the sand. They followed the line of lights down the beach into the sea. The turtles investigated toes as they went, and everyone in the line were excited by the feel of the babies crawling over their feet.
We took some pictures of the babies in the hands of the ranger, and again as they rushed down the beach.
The numbers are incredible, There are 330 females that visit this beach to lay. Each visits 4 times and lays an average of 130 eggs. The turtles remain endangered because so many of the babies are food for other creatures before they grow to maturity (30) They only breed every couple of years, as from when the female starts laying until she finishes she does not eat at all. After she has laid her final batch she heads to her home feeding grounds to fatten up.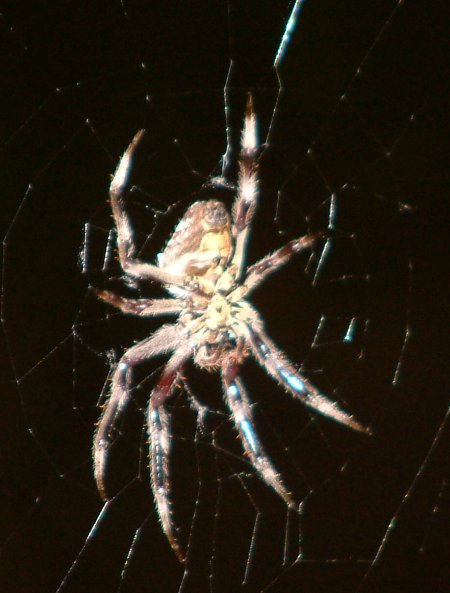 Big Spider - This one was about 2.5 inches long
We also saw green tree frogs, a bandicoot and a huge spider at the ranger station. At the camp site we saw some interestingly coloured birds and the usual lorikeets.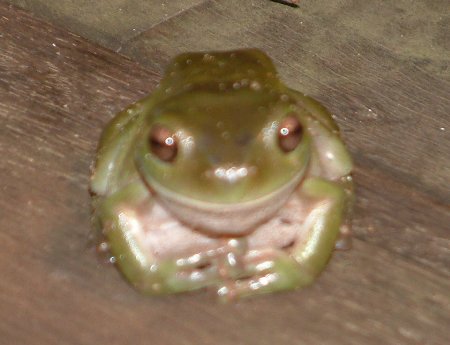 Green Tree Frog
Distance travelled: 323 kms
Wednesday 14th February 2007 - Day 27
Got up early and went to the dive centre for Jo's dive. Its cancelled. the sea is a bit lumpy so it has been postponed until tomorrow.
So we got out all the pamphlets about things to do in the area.
We decided to go and find a camp site out the beach. We were driving out when we spotted a site with pool, internet, and en-suite facilities. So we booked in for a couple of nights until we have done the dives.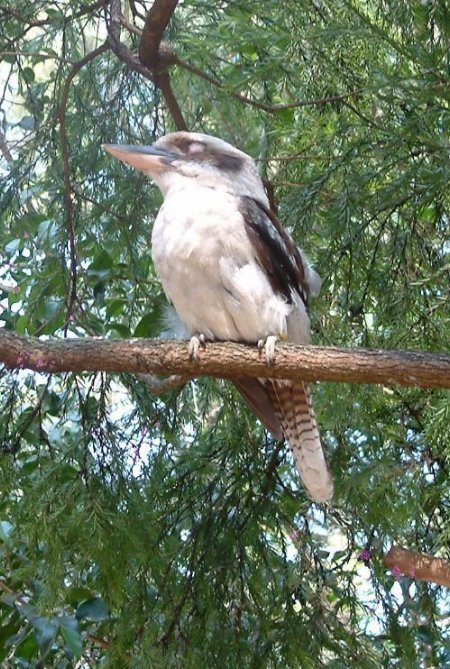 Kookaburra on the site
Jo and Kevin did the laundry and went for a swim while I downloaded hundreds of junk mails, then went shopping for dinner.
We then spent the next few hours listening to Kevin moan as he did his homework.
I cooked Chicken Tikka for dinner - what a romantic Valentines meal. Curry and Kevin.
Distance travelled:
Creatures seen: Kookaburra, heron and Lorikeets.
Thursday 15th February 2007 - Day 28
Woke up to rain again, dives cancelled again.
Bundaberg is famous for 5 things, sugar, turtles, Ginger beer, Rum and an aviation pioneer called Hinkler. The town makes the most off all of these and has "attractions" where you can find out more about each of the 5 subjects.
We started at the Ginger Beer factory, where you can find out how they make it, why they make it like they do, and then try a few samples.
Next we went to the Rum factory, learnt and smelled how Rum is made from Sugar, sugar and more sugar. Jo managed to lock us out of the van, and I found how quick and easy it was to break into.
We went into town and found a Sizzlers restaurant where we ate, good food and good value.
Played a few hands of cards and went to bed, as we are supposed to be diving tomorrow.
Friday 16th February 2007 - Day 29
Went to the dive shop - all diving cancelled.
Went to the sea coast to let Kevin go into the sea. It was too choppy, so we went to the basin - a lagoon that gets filled at each high tide and mixes with fresh water from a small stream.
There are lots of fish, and often turtles caught in there, to swim with, but Kevin decided it was too cold - he is in a grumpy mood again today.
We drove back to Bundaberg and found the Botanical Gardens, where the we did a tour of the Hinkler Museum, Hinkler was one of Australias first aviators and has a lot of firsts for long distance flights.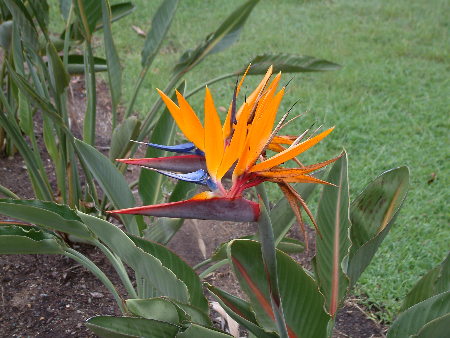 Pretty orange flowers in Bundaberg
We then walked around the gardens looking at the different birds and lizards, and watching the fish, eels and turtles in the lake.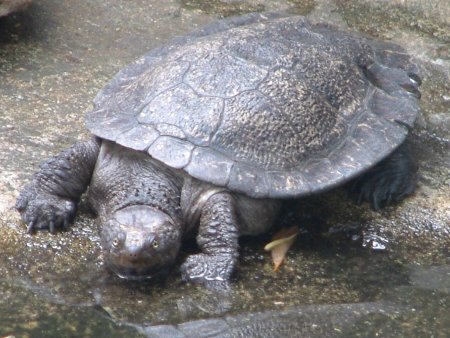 Fresh Water Turtle
distance travelled in Bundaberg: 112kms
Saturday 17th February 2007 - Day 30
Went to the dive shop. diving cancelled again, so we got our money back. Decided that it was hopeless going any further north, as the weather forecast is for heavy rain all the way from Bundaberg to Cairns. Looking at the radar there is better weather in the south, so we have decided to head back and stop and dive where we find places that are still going in the water.
We were going to head to Brisbane tonight, but remembered that we had not been to Australia Zoo yet, so we decided to stop at Mooloolaba again, as it is only about 30kms from the Zoo.
When we camped we went to the beach and caught the very end of an inter beach kids competition.
Went to Hog's Breath for dinner, then thought that we would go for a drink. When we got to the bar they were carding everyone. I passed the carding OK, but was denied entry because I was wearing sandals, and men had to wear enclosed shoes. A very strange rule, as most of the girls wear open sandals.
Distance Travelled: 284kms
Sunday 18th February 2007 - Day 31
Got up early and drove to Australia Zoo, getting there just before opening time.
Got inside, and managed to lose Kevin for a few hours.
Zoo very good, lots to see, good size enclosures, and lots of information about the animals.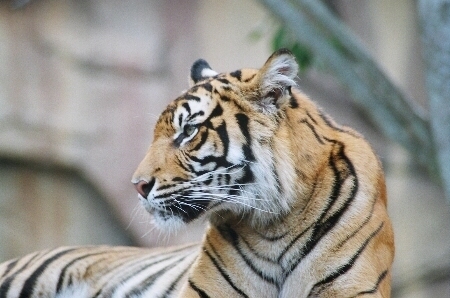 Tiger at Australia Zoo
Watched the displays, took loads of pictures, Jo and Kevin did a photo shoot with some Dingos, they wanted to do the display with something more exciting, but even though we were at the booking place at opening time, the other animals were already fully booked.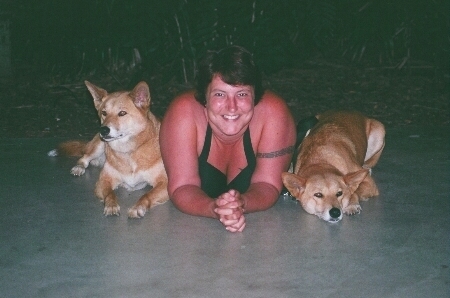 Jo with Dingos
Kevin with Dingos
We stayed until we were kicked out, then continued our drive South. We decided to stop again at Helensvale, so that we can visit Sea World and Dreamworld. We got there at about 7pm, just before dark. Got the camp set up, then went and got some food. Kevin had a Kebab, Jo had KFC and I had a pizza.
Distance Travelled: 174kms.
Creatures seen: Crocodiles, American Alligators, Saltwater Crocs, Koala, Elephants, Tigers, Lorikeets, Komodo Dragon, Otters, Snakes, Wombats, Possum, Enchida,
Monday 19th February 2007 - Day 32
Got to Sea World just as they opened, and went straight to book an encounter with an animal. Jo and Kevin decided the would visit the Polar Bears.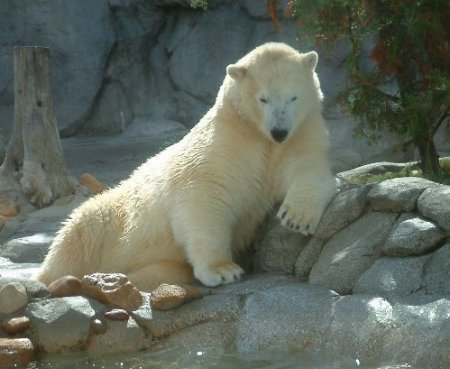 Polar Bear
We wandered around and looked at the creatures, took loads of pictures.
Near the end of the day we were at the dolphin pools, and the dolphins came to play with us, splashing us with water, and waving to us.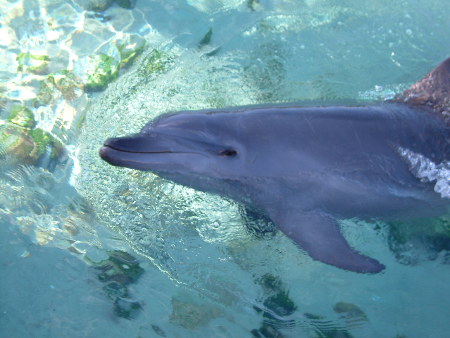 Dolphin that played with us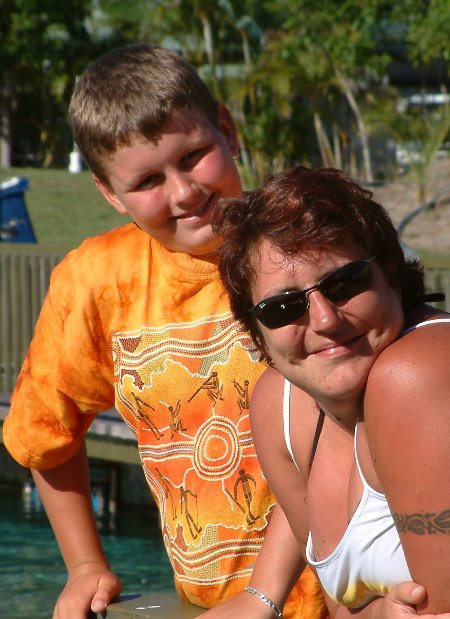 Jo & Kevin at Seaworld
Distance Travelled: 52kms
Creatures seen: Dudong, reef fish, rays, penguins, frogs, dolphins, Pelicans, Cormorants, Various other sea birds, Sea Lions, Polar Bears, Lots of different Sharks, starfish.
Tuesday 20th February 2007 - Day 33
Today we spent the day having fun at Dreamworld. Kevin and I managed to do almost every ride, Jo managed about half of them. The big part of the day for Jo was the animals.
They have half a dozen Tigers who have a huge enclosure. They are very beautiful, and we took loads of photos of them. They have one white Tiger who likes to perform for the crowds.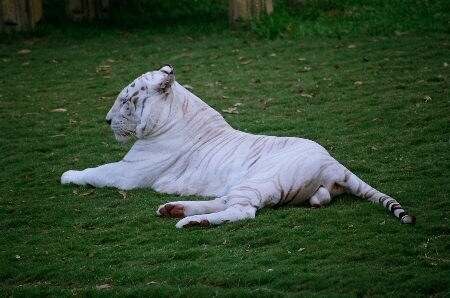 White Tiger
They also have a mountain Lion (Cougar) that they brought out to show off and to let people take photos.
Wednesday 21st February 2007 - Day 34
Yippee we are going diving today. The downside for Jo is that we have to be at the dive company at 6.15am, and she hates mornings.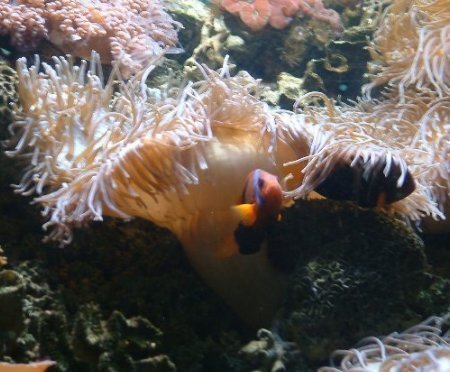 Anemone fish
We got to the town where we were to meet on time, but the lady who runs the dive company then spent 15 minutes guiding us through the race course and commercial areas to he dive shop.
We got kitted up, then climbed into her van for a 20 minute drive to the launch site.
One of the divers never arrived, so we ended up with us 3 and one other diver, and Jane the owner doing the dive.
Everything went well, and we had 2 good dives with lots of fish to see. Jo loved it, as it is the first dive she has had in warm water with good visibility and lots of life. After all the problems she has had with her diving in the past I think this made her see why I love the sport so much.
In the evening we went to see the Great Australian Outback Adventure. This is a sit down dinner while watching a horse show. The food was excellent, and the show pretty good. I started getting wheezy as the night went on, as I am very allergic to horses.
We were not allowed to take pictures, but we managed to get 1 of the auditorium.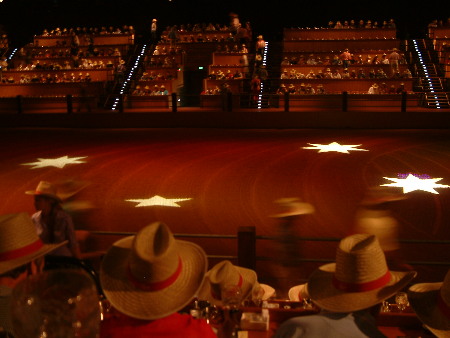 Stadium for Australian Outback Adventure
Creatrures seen: Wobbegong Sharks, domino clown fish, clown fish, moorish idol, green and loggerhead turtles, lion fish, 3 banded bull fish, trevally, long toms, pipe horses, banner fish, surgeon fish, angel fish, anemone fish, plus hundreds of other reef fish. In the evening, Horses, sheep and cattle.
Distance travelled: 120kms by road, 10kms by boat
Thursday 22nd February 2007 - Day 35
Kevin Horse riding at 9am in a country park. Our map is not very detailed, Australian road signs are not very informative, and the maps on the brochures are all too often very badly drawn. Our journey was quite fun with us taking guesses as to which road we should be on. We got to the place where Kevin needed to be with a few minutes to spare.
My eyes are streaming, my nose is running and I am sneezing a lot. My allergy to horses is so great that even being in the same auditorium as them last night has effected me badly.
Jo and I drove to a small town where we wandered the shops for a while, found a bar and had a drink, and then found the place where Kevin was being dropped off. We were told he was being returned to the railway station, so we found station road, and drove the length of it twice. We then found out that the station is about 2k from station road, on a different road! Guess the town planners must have been drunk when they named the streets. We found a chemist and got some anti-histamine tablets, and within about an hour I was able to breath again properly.
We then drove down to the coast, to find a site near the sea and where they have internet access so I can do a bit of work.
We found a site in a town called Miami beach, but after settling in, I found that the internet will let me look at websites, but the filters were locked down so tight I could not upload anything to my servers, and could not open my Yahoo mailbox.
We went for a walk on the beach, and Kevin went for a swim.
Friday 23rd February 2007 - Day 36
Kevin went fishing. The trip was very early, he hat to be at the dock at 5.45am. Jo got up and had a coffee sitting beside Kevin's tent while I drove Kevin the 20kms to the wharf.
Jo and I did some cleaning and house work while he was gone, then went and collected him.
In the afternoon we went shopping at a mall. I think Jo was just looking to add to her shoe or bag collection, but as I had just got some money through, I took her to a jewellery shop and bought her a belated valentine gift. Kevin also bought her a gift, a gold ankle chain.
In the evening we went for dinner at a Sizzlers restaurant, and then returned to the camp.
Saturday 24th February 2007 - Day 37
Got up at 7, and headed back towards surfers paradise where we are to board a boat called blue fire and go for a trip to South Stradbroke island.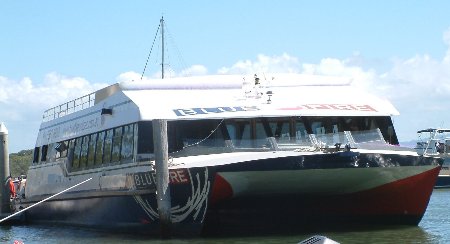 The Blue Fire
Before we boarded we had a photo taken with a parrot and a lorikeet.
We found a table and watched out of the window while everyone boarded. There are some fantastic boats in the harbour, some must be worth millions.
We sailed along the channels off surfers paradise looking at unspoilt islands on one side and the homes of the rich and the famous on the other. The thing that struck me was how despite all the money these people have, their homes are all on tiny plots and the houses have just a few metres between them.
We had a barbecue on the boat which was good, then landed at the island. Kevin was booked to be towed behind a boat on an inflatable chair, Jo and Kevin were booked to do a speedboat ride. Kevin got his ride, and then wanted to go again.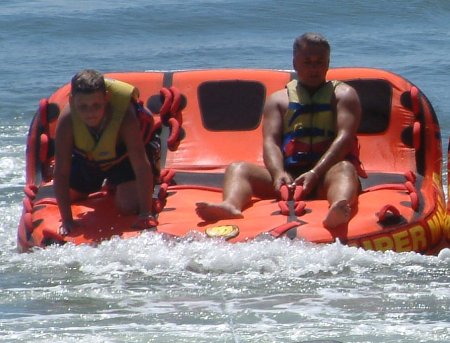 Kevin and David on the Inflatable
He managed to persuade me to go with him, I must be mad. The ride was fun, the driver had two inflatable's, with Kev and I on one, and a young couple on the other. He kept crashing the 2 together, until Kevin lost his grip and ended up in the drink.
While we were on the island we saw some wild golden wallabies, that are only found on the island.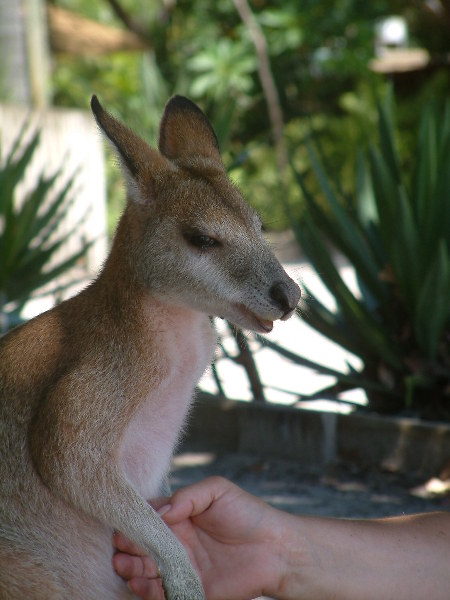 Golden Wallaby
On the return trip, they let the kids do wakeboarding and boom netting from the boat. The speed boat never arrived, so Jo never got her speed boat ride.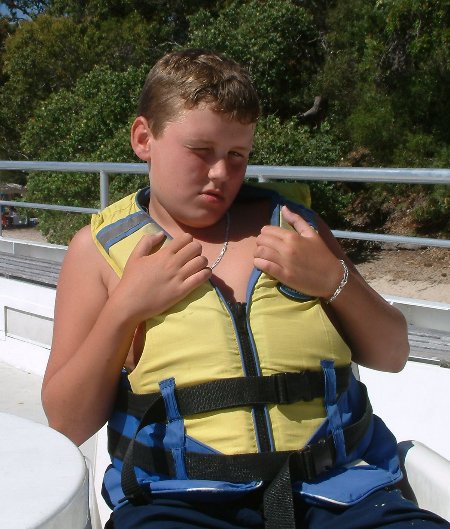 Kevin posing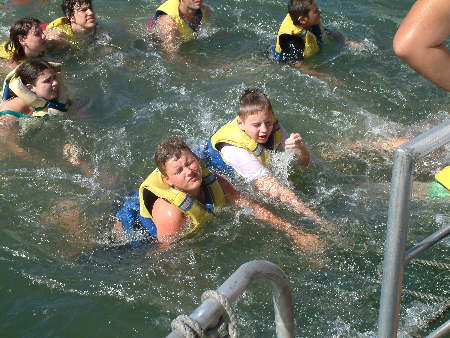 Kevin Boom Netting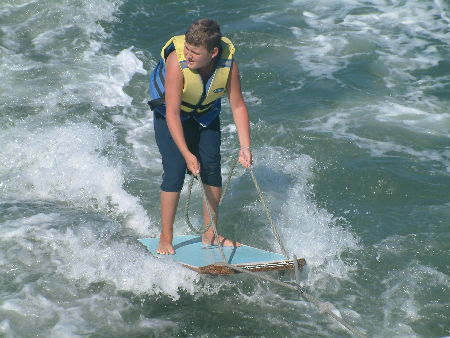 Kevin Wake Boarding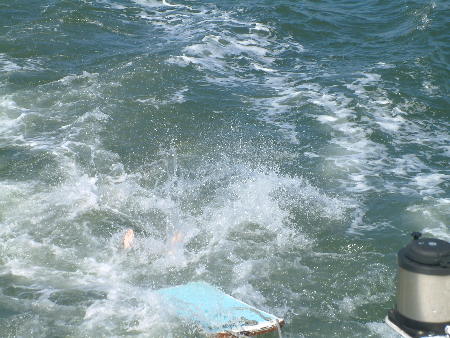 No more Kevin
Sunday 25th February 2007 - Day 38
Left Miami this morning and drove to Byron Bay, one because the weather is nice there, and two because there are some good dive sites. Got to the town at lunch time, and found a camp site overlooking the beach, and within a 2 minute walk of the town. This is brilliant, because it means I don't have to drive for a few days, and we can have a drink without worrying about getting back to the site afterwards.
We went for a walk around the town, then spent a while on the beach. Found somewhere that I will be able to get online in the morning, so I will be able to check my sites at last, and do a bit of work for customers.
We collected a few brochures to find some activities, looks like we can have quite a bit of fun here, as there is a lot to do.
Distance travelled:
Monday 26th February 2007 - Day 39
Up nice and early, as Kevin is going kayaking at 9. We were not exactly sure where he was supposed to meet the rest of the people, but we knew where the road was. I stopped to get some cash to pay for him, and then headed off to catch up with Jo and Kevin. They had disappeared! I found the Kayak company, they were waiting for Kevin to arrive, I looked along the beach, then walked back to the camp and back to the kayak people again before I found them, they had decided to walk along the beach, and had gone to another kayak company. Despite being quarter of an hour late, the let him join them, and he went off and had a great morning. He had a fantastic time, he surfed the kayak, fell off a few times, and saw some dolphins.
Jo and I retired to the beach cafe where I managed to get online, did some work for customers, and downloaded over 4000 junk emails, and maybe 4 or 5 mails with work. The only problem with having so many web sites is that everyone of them gets flooded with junk mail. When we get back to Spain we will probably have over half a million junk mails waiting to be downloaded from the sites that don't have a regular email address. If I believed and took up all the offers I receive, I would be having sex 24 x 7, and have a penis that reached from Spain to Oz. I would be a bulti millionaire, and never have to work again until the day I die.
After we had finished work, Jo and I went diving. Fantastic visibility, and Jo got to swim with sharks for the first time. We saw Loggerhead and green turtles, Leopard and wobbegong sharks, rays, and loads of different reef fish.
The trip to the dive site is pretty exciting as well, as the ribs are launched over the beach, through the surf. The water was pretty lumpy so the boats were flying for half the trip and on the water for the other half.
While we were waiting for the last of the divers to get back onto the boat we saw a couple of turtles on the surface.
Distance travelled: by road to dive site 6kms, by boat 5kms.
Tuesday 27th February 2007 - Day 40
Had a quiet day today. No activities other than lying around sunning ourselves on the beach. Cooked ourselves a curry in the evening.
Distance travelled: 0kms
Wednesday 28th February 2007 - Day 41
Woke up to find that we had had a lot of rain in the night, but the morning cleared fast and the day turned out to be another scorcher.
Jo and Kevin went horse riding this morning. The company they went with is called Sea Horses, as the ride is along 7 mile beach. When they stopped for lunch they took the saddles off of the horses, and rode the horses bareback into the sea.
I went diving. the launch into the sea and trip through the surf was even more exciting than Monday, as the seas were running at 3+ metres. My buddy for the trip kept me waiting in the water for quite a long time, as he forgot to put his weight belt on, and could not get under the water until he realised what was wrong, so I spent almost 5 minutes on the surface getting battered by the waves while I waited for him. Once under the water the dive was great, huge Leopard sharks swimming beside us, a huge loggerhead turtle about 1 metre across and with a head as big as a man. Groupers, damsel fish, lots of wobbegong sharks, green turtles, lion fish, lobsters and crays, domino fish, and dozens of other colourful reef fish.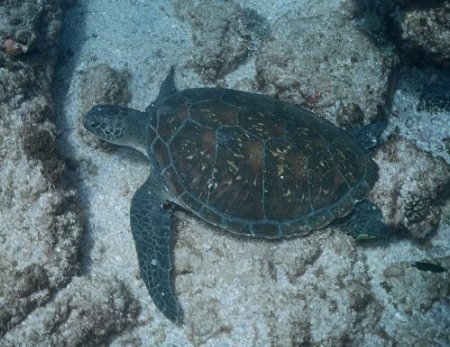 Turtle resting
I was booked for a second dive as well, but when we got back to the beach with the boats the water was low, and sand bars had built up in the launch area, so the captains were unable to find a safe launch site. The dives were aborted. I am now booked on a dive at 1.30 tomorrow.
Got back to the camp and found that Jo and Kevin had just got back as well. We sat around and swapped stories for a while, then Kevin decided he would like to try a dive with me tomorrow.
We went and got some provisions, used the camper, as all the bottles of coke and water weigh so much we would have stretched our arms by a metre trying to carry them back here.
When we got back we went for a walk to find a jeweller to repair Jo's ankle bracelet, and stopped at the beach bar to watch the sea. A storm was brewing up, so there were white heads as far as we could see. Not looking to good for tomorrows diving.
When we got back we cooked up chicken in mushroom sauce with mash and veg. for tea, played a few hands of crib, and were in bed by 9pm
Distance travelled by road: 9kms, by boat 5kms.