Parents and Siblings
My Parents, John Frank Spinney, born 3rd January 1929 in Poole Dorset and Marion Ruth Norman, born 2nd August 1927 in Launceston, Cornwall. Met at the Salvation Army Officers Training College in the early 1950´s.
They got married in May 1955, just before they finished their training course, and I was the first child born in 1956.
I was joined by a brother Phillip Dinsdale Spinney in 1959 and a sister Deborah (Debbie) Ruth Spinney in 1963.
Our childhood was spent in the usual way of Salvation Army officers kids, moving around the UK every 3 months to 2 years, up until the time I left home I lived in over 40 homes and went to 24 different schools. As a result of this I never put down any roots, and have no town in the UK that I call home.
My mother died in May 2002 just short of their 47th wedding anniversary. Dad got married again in 2007 to a Lady called Rosemary Smithers.
My brother was born in Evesham, Warwickshire in May 1959, he is the smart one in the family, absorbing education like a sponge, and passing exams with apparent ease. He married his first sweetheart Jan, and has 2 daughters, Louise and Laura, and a son Nick.
My sister was born in Treorchy in Glamorgan in May 1963, she has resisted the clutches of men and remains a single lady to this day.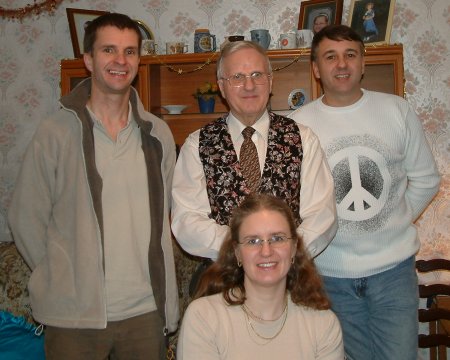 Phillip (43) Dad (74) David (46)
Debbie (39)
This was taken on Dads 74th birthday in 2003.