My Australian Journal January 2007
Friday 19th January 2007 - Day 1
Landed at Sydney airport at about 8.30, just over an hour late. We have been travelling for 5 weeks now, and come to the last country on our honeymoon. We have just spent 4 weeks in Canada, and just under a week in the UK.
We booked a hotel over the internet, looking for hotels in Sydney. We found one that looks nice, not too bad a price. Then we got into the cab, and found out it was 57kms and A$150 fare. Bit hacked off, but as I had paid online we decided we had better book in. Warning to fellow travellers, Rooky Hill is not a few minutes from the city centre as Holiday Inn says in its ad, it is over 40 minutes by train. Got an internet connection - thank goodness - though at a price.. A$19.95 a day!
Booked into hotel, went to the RSL club next door for some lunch, and then decided to have a nap at about 3pm.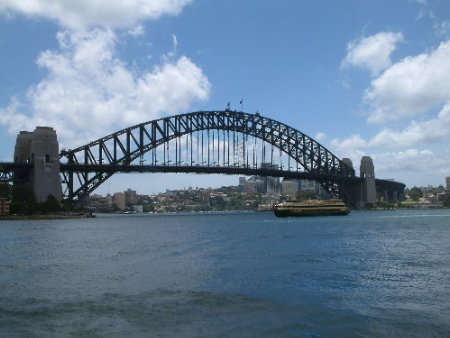 Sydney Harbour Bridge
---
Saturday 20th January 2007 - Day 2
Woke up at 8am.. The nap turned into a marathon sleep for all of us. I cannot remember the last time I slept so long. I guess the multiple flights and time zones took a greater toll on us than we expected. Once we were awake we took a taxi to a nature reserve called Featherdale, which was only a couple of minutes from the hotel. The taxi driver was a friendly, chatty chap, and said we had been ripped off by the driver on Friday, and that the fare should have only been A$90-100.
Jo and Kevin loved the park, and they got to see their first Kangaroos and Koalas in OZ.
We next took a bus and train to get into Sydney, where we found some lunch and did a spot of shopping. Jo also managed to get her hair thinned out a bit. She is trying to grow it long again, but it is at the messy stage right now, and she gets frustrated with it.
Got back to the hotel, and hit the problem with eating in Australia - everything was shut by 9pm. We managed to get a pizza and chips delivered by room service, and at in our room.
Creatures seen: Kangaroos, Koalas, Tasmanian Devil, Dingoes, Emus, Fruit Bats, Alligators, Wombats and various lizards and snakes. Kevin Loved the reptiles, and Jo loved the Koalas, and having the kangaroos eat from her hand.
---
Sunday 21st January 2007 - Day 3
Lazy day. Stayed in the hotel all day watching TV and working on emails.
Ordered room service for dinner.
---
Monday 22nd January 2007 - Day 4
Took a train ride into Sydney, walked through the park down to the harbour. Had a look at the outside of the Opera house and sat and had a drink outside beside the ferry docks and looked at the bridge and watched the boats.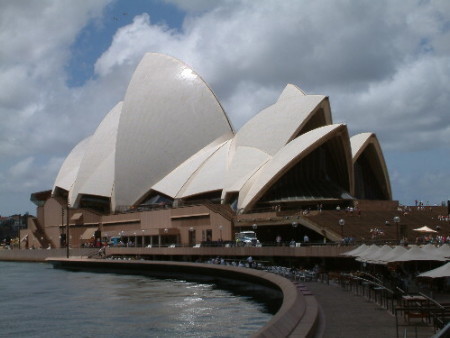 Sydney Opera House
Stopped and watched a street entertainer hammering nails into his sinuses.
Came on back to the hotel caught up on the emails and then ordered a takeaway.
Tuesday 23rd January 2007 - Day 5
Collected the camper. Its a 4 berth camper on a Toyota Hi lux 2.7 petrol truck. It is starting to show its age, but it will suit our needs OK.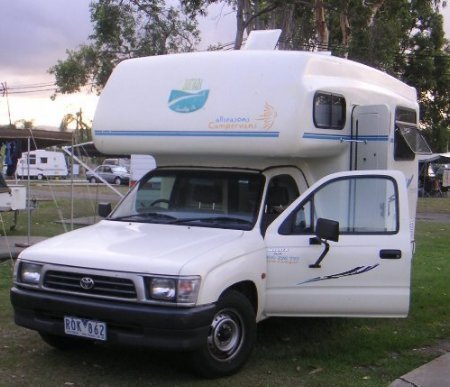 Matilda - Our home for 8 weeks
I drove it back to the hotel, passing the airport on the way. My total journey to the hotel was less than 57KM, it took me less than an hour, and my tolls were only A$2.20, so Cabbie 2 was correct, Our driver from the airport was a rip off artist.
We loaded our bags and hit the road, and managed to put 187kms behind us and stopped for the night in a town called The Entrance. We found a camp site, and went looking for food. It was only 8.30, but everywhere was closed or closing. Even McDonalds was shut! So we ended up grabbing a take away from a Red Rooster, and eating in the camper.
Distance Travelled 55km to hotel, then 132km's up the coast.
Wednesday 24th January 2007 - Day 6
Hit the road about 10, and got as far as a shopping centre where we stocked up on supplies, and lighter clothes. Day a bit miserable and damp, so we decided to just drive northwards and try to get out of the weather.
We got as far as a town called Old Bar where we set up camp for the night.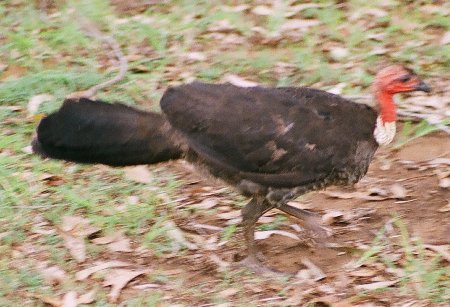 Scrub Turkey
Kevin and Jo met their first scrub turkeys rummaging through the hedgerows.
Distance Travelled 248kms
Creatures seen: Scrub Turkeys
Thursday 25th January 2007 - Day 7
Resumed our journey North, weather still a bit wet, but clearing slowly. We found a Koala breeding station called Billabong where we stopped and took a few photos. Sadly the place looks a bit run down, they obviously started out with high intentions but the place is looking very tired.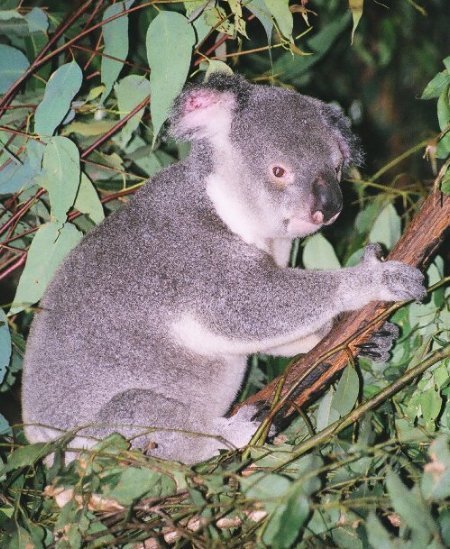 Koala
We resumed our journey, stopping for lunch in Kempsey. We were going to go and do some diving at South West Rocks, but when we telephoned we found out that the water was still cold and the visibility very poor. So we kept on driving.... We ended up in a town called Coffs Harbour. Jo fancied a break from the van, as we are not very organised yet, and we need a break from being on top of each other, so we booked into a hotel for 2 nights.
Distance travelled: 247kms.
Creatures seen: Koalas, Kangaroos, reptiles, wallabies, spider monkeys, peacocks, there were a lot of lizards on the loose, and you could not walk more than a few feet before you saw another one.
Friday 26th January 2007 - Day 8
Went into town today and called into the dive shop. We have booked refresher courses for the three of us. We do the classroom and pool exercises tomorrow and the open water dives on Sunday.
Today is Australia day, so expected to find most shops closed, but the town was very busy. Lots of parties going on in the parks, and lots of people wearing Australian flags and temporary flag tattoos on their faces.
Went to the Porpoise Pet Pool to see the Dolphins and Seals. Jo and Kevin got their pictures with the dolphins "kissing" them. They run a rehabilitation facility at the pool, helping various sea life recover before they are re-introduced to the ocean.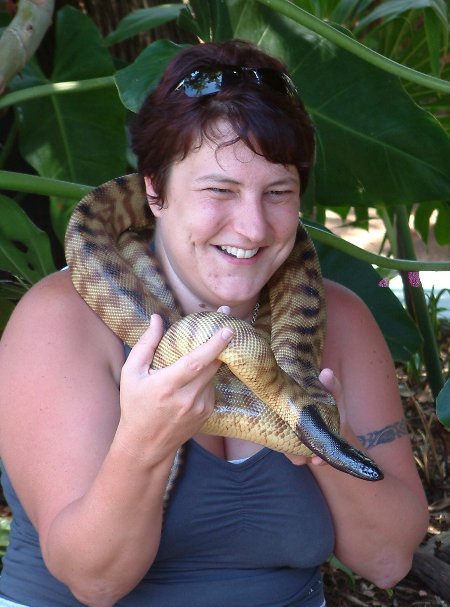 Jo with snake
Spent the rest of the day mooching around, doing some shopping, sorting out what we need to wear and use, packing the rest away, and watching Steve Irwin on TV.
Stayed in the hotel again tonight, will be back in the van tomorrow.
Had a Dominos Pizza take away for dinner.
Distance travelled: about 30kms.
Saturday 27th January 2007 - Day 9
Started the day doing a spot of shopping bought Kevin a tent and air bed so that we would not be all cooped up in the van.
Kevin and I also got our hair cut. Kevin was highly amused with mine, as there were no hairs left over half an inch long! This is probably the shortest my hair has ever been.
Then went and found a camp site - and found our plot
At 1pm we went to the dive shop and watched the PADI refresher video, then kitted up and went to the local swimming pool for the underwater tests. We all three managed fine, and we are all set for the boat dives tomorrow.
Went to dinner in a restaurant called "The Hogs Breath" where I had my first steak since coming to Oz. Very nice.
Went back to the camp site and Kevin pitched his tent, he did well only needing a little help from us.
Distance travelled: about 30kms
Sunday 28th January 2007 - Day 10
Got to the dive shop at 7 as requested, only to find that due to a southerly wind coming through diving was off for the day.
We set off to find something to do, and by 9am were at an attraction called the "Big Banana" This is a banana plantation with a few rides (a monorail-closed because it was no longer reliable, an indoor ski slope-closed because it lost too much money, a sky walk to a viewing platform to see along the coast, the climb was open, but the viewing platform was closed due to vandalism, a zip line-closed, no explanation) a working toboggan run, where you ride small wheeled toboggans down a steel chute, this was fun, I rode once, Kevin did the run 4 times. There were also a few shops where we bought banana themed souvenirs and a sweet shop where they make sweets while you watch.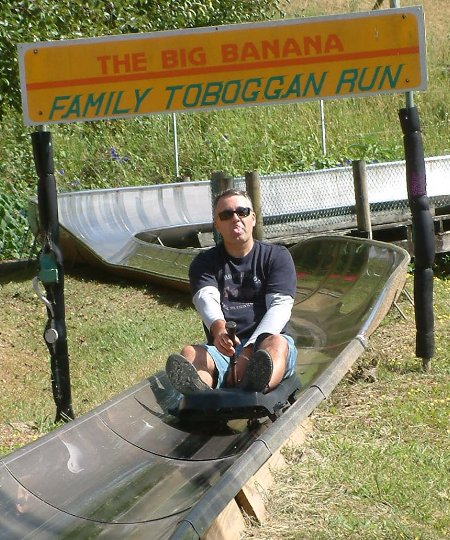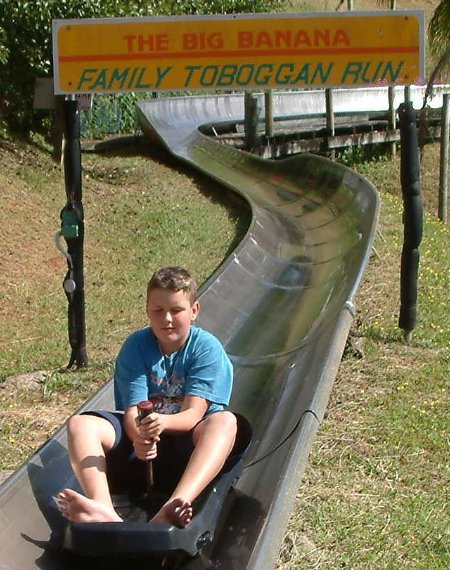 We only lasted an hour, and then we needed something else to do. We pulled out the guide books and found some horse riding about 25kms away, so we headed south to the stables. Jo and Kevin had a couple of hours fun riding through the forest while I took a while to read the Sunday papers. I am allergic to horses, my eyes were streaming from just sitting in the waiting area about 50 metres from the stables.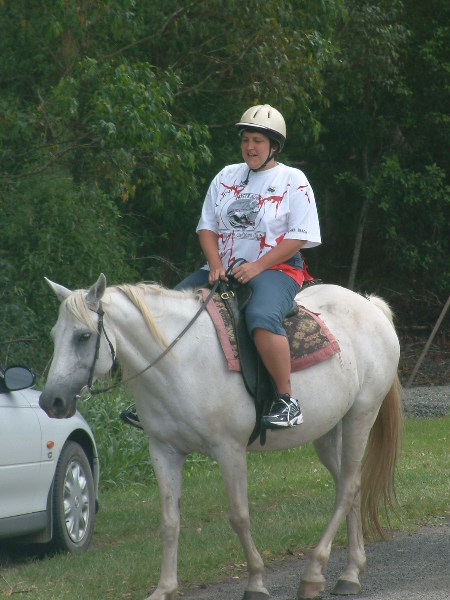 Jo on Echo
Kevin on Sunbeam
We returned to the camp about 7pm, and played Crib. I cooked up some pasta for dinner and then we had another early night ready for the early start (7am) tomorrow.
Distance travelled: 85kms.
Creatures seen: Horses.
Monday 29th January 2007 - Day 11
Got to the dive shop just before 7, and found that we were fine for diving.
We got kitted up, and headed out for an island called South Solitary where we would be diving.
Jo had forgotten her sea sickness tablets, so we asked if anyone else had any, she was in luck, as they had. She didn't suffer at all.
We all got in the water for the first dive, things were going fine until Jo got a heavy knock on the head from the mooring buoy, which unsettled her. Then she could not sink, and started to panic. Sadly she had to abort her dive and return to the boat.
Kevin and I continued, and had a pretty good dive. It didn't last very long as one of the other girls on the dive had the wrong sized mask, and we had to return to the surface after only about 20 minutes.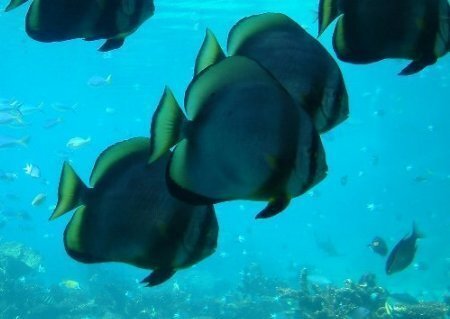 Butterfly Fish
The second dive went better, though sadly Jo decided she was not yet ready to try again. We went down with the dive master so that the instructor could concentrate on the students. We saw a fair amount of sea life including sharks and rays.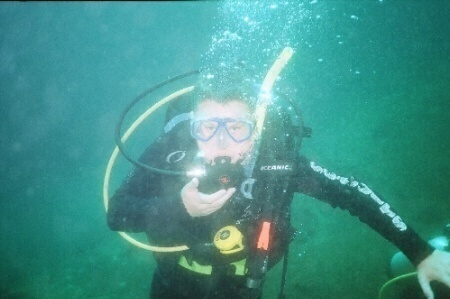 Kevin Diving
After we cleaned the kit, we went and bought some rations and returned to the camp for a lazy afternoon. Kevin and Jo played in the pool, while I updated my dive log, then we cooked up a barbeque
While Jo and I were sitting by the camper Jo suddenly noticed a pair of Owls sitting on a branch above us.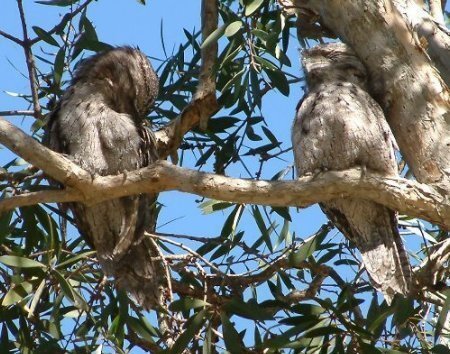 Owls at the campsite
We were all in bed again by about 9.30, the days end so early out here.
Distance Travelled: about 10kms on land, about 20kms on the boat.
Creatures seen:
Tuesday 30th January 2007 - Day 12
Left Coffs harbour and headed north on the Pacific highway heading for Brisbane. We had in the past talked about going to the theme park just outside Brisbane, but we had forgotten about the plans, and were surprised when we suddenly spotted them from the Freeway. We decided to pull off and investigate.
We have a choice of Wet and Wild, Movie World, Great Australian Outback or Seaworld. After much discussion we have decided that if Kevin knuckles down and gets his homework done we will visit Wet and Wild tomorrow, and Movie World on Thursday.
We found a camp site about 1.6kms from the parks and booked ourselves in. We then started work on getting Kevin to do some homework! It took him almost 3 hours to read 4 pages and write a summary, if he had not argued with us he could have had it done in about 45 minutes.
We went searching for a restaurant for dinner, we found a plaza which advertised Pasta, an Irish pub and various other eating places. We managed to find a Thai restaurant open, so Jo and Kevin both had their first experience of Thai food. Kevin enjoyed it more than Jo, she found it a bit too spicy for her palette.
The people on the camp site are very friendly, and Kevin has already made 2 new friends. The adults are very chatty as well, and everyone stops and talks to us as they walk by the van.
In bed by 9.30, as whole camp site dark and everyone else in bed. Very hot and sticky night, didn't sleep very well as I appear to have picked up an ear infection.
Distance Travelled 359kms
Creatures seen, just lots of different birds.
Wednesday 31st January 2007 - Day 13
Very early start... I was up at 5am, serious ear ache. Took a few pills and sat outside answering emails, updating this journal, listening to the dawn chorus and watching the sun rise. Lots of other people were up by 6am, and by 7 almost the whole site were up and starting their day.
Watched the Ibis walking around the site getting their breakfast, and the skinks chasing each other through the bushes.
Kevin came and did his homework at about 7.15 - he has now been told that unless he does his homework without a fuss, first thing every morning, he will not be doing any of the parks, diving etc that day. Face like thunder, as he feels he should not be doing homework. He was astonished to learn that one of the other kids on a similar trip to us has to do 2.5 hours of homework every day, where we are only asking him to do 30-60 minutes a day.
Went to Wet & Wild. Kevin and I went on all the rides, some were very fast. Jo tried a few of them and spent the rest of the time sitting in the wave pool.
We went to the shopping centre and bought a hot chicken and some salad stuff for tea. On the way out of the car park I hit an overhead height bar with the van skylights and broke one.
Sat outside the van and talked to one of the neighbours for a while, and were tucked up just after 9.30
Woke in the night because I was getting wet. It had started raining and the broken skylight was leaking onto me.
Distance Travelled 11 kms