My Australian Journal Mar 2007
Thursday 1st March 2007 - Day 42
A quiet day around the camp today, as the dives have been cancelled due to lumpy water caused by the tail end of a cyclone further north in Queensland.
Went shopping, explored the idea of new tattoos for Jo and me (too expensive her) and Kevin got another ear piercing.
Grabbed some steaks and cooked up steaks with pepper sauce, corn on the cob and chips for dinner.
Played a few hands of crib, added the pictures to this journal, and hit the hay about 10pm.
Friday 2nd March 2007 - Day 43
Went diving again... Saw lots of great wildlife including Turtles, Leopard Sharks, and huge Bull Rays. The actual list of different fishes is too long to write, as on every dive we see in excess of 50 different colourful species.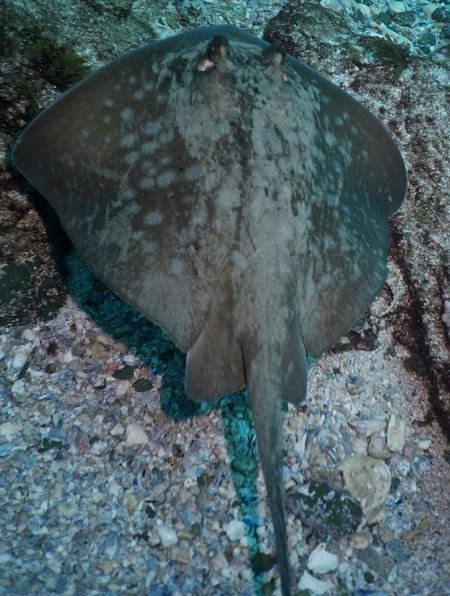 Small Bull Ray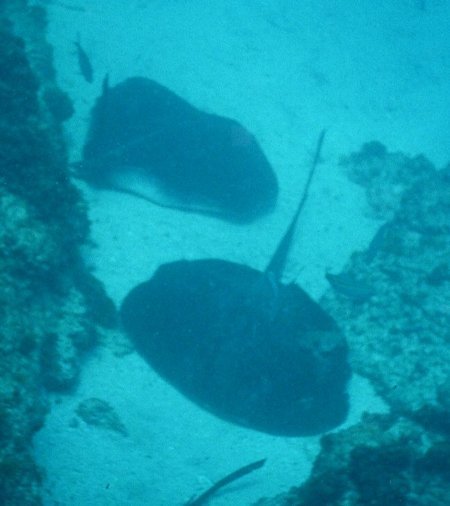 2 large Bull Rays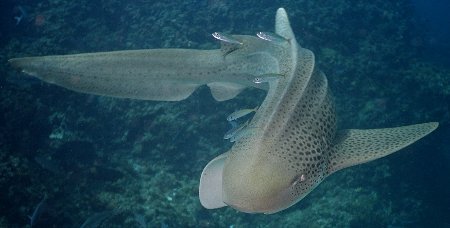 Leopard Shark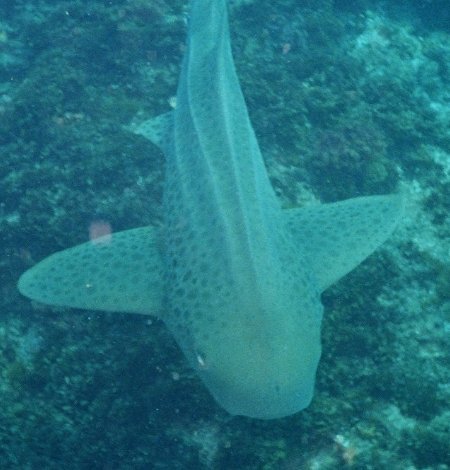 Leopard Shark
The Leopard sharks are between 2 and 2.5 metres long, the Rays were between 1 and 1.5 metres across. We also saw huge shoals of other fish taking shelter from the stormy waters, along with the usual hundreds of different reef fish.
Kevin was on this dive with me, and he enjoyed himself as well, we spent about 43 minutes on the dive at a depth of about 16 metres.
In the afternoon I went for a walk up to the lighthouse.
Distance travelled: by car - 8kms, by foot 12kms, by boat 5kms
Creatures seen: Leopard sharks, wobbegong sharks, bully rays, sting rays, cod, moorish idols, banner fish, angel fish, groupers, sergeant major fish, jew fish, clown fish, pipe fish, sand flathead, box fish, domino fish and anemone fish.
Saturday 3rd March 2007 - Day 44
Today was a quiet day chilling in town and on the beach.
We did nothing except, go to a cafe and have some breakfast while I did some work, did a little bit of shopping, ate far too much.
In the evening we went to Hogs Breath Cafe for dinner, and by 10pm we were in bed.
Sunday 4th March 2007 - Day 45
Jo woke early - almost unheard of for her!, and she got Kevin and me up as well. We had the tent down and packed, the caravan ready to roll, and were on the road by 8am.
Jo spotted a few Kangaroos in the wild as we drove, but apart from them and the usual variety of birds, no other wildlife seen today.
We drove to a town called South West Rocks which has some incredible dives, and some good snorkelling in the bays nearby as well.
Booked a couple of dives each for the morning. Looking forward to this, as there are currently about 50 nurse sharks in the dive zone. I got some great close ups of them last time I did this dive, and I am hoping to get some better shots tomorrow.
Booked into a nice quiet camp site on the edge of a nature reserve, got a really good lunch in the camp cafe, and then spent the afternoon lazing in and beside the pool.
Got online, and downloaded over 2000 junk mails, and did a few site updates, apart from that a nice lazy afternoon and evening.
Sitting here updating my journal beside the camper I have just been joined by a few wild Kangaroos who let us get within about 8 feet to take pictures.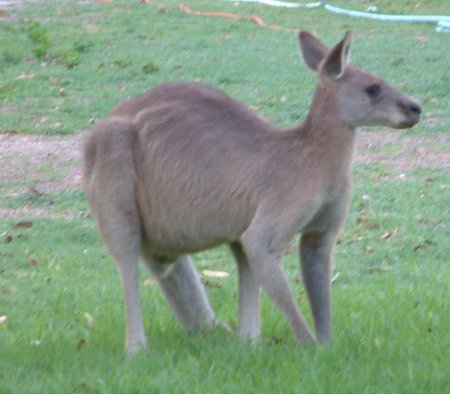 Kangaroos in the site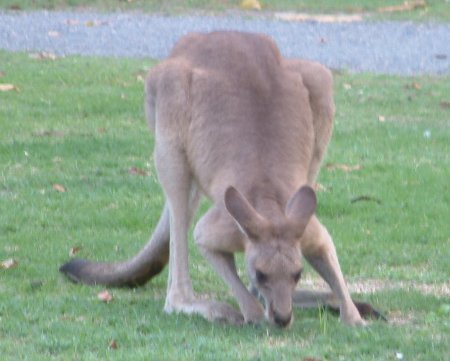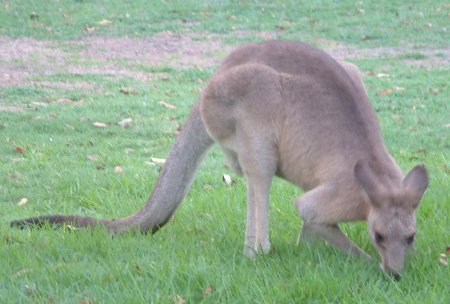 Distance travelled: 358kms.
Creatures seen: Roos, various birds.
Monday 5th March 2007 - Day 46
Went diving at Fish Rock Cave, a great dive that I did when I visited here in 2000.
We had to be at the dive shop by 7.30am. We got kitted up and headed for the boat ramp.
There were 10 divers on our boat, 2 instructors had come down for some diving from Coffs Harbour, 2 divers who were making a documentary about the grey reef sharks, Jo, Kevin and me, 2 dive masters and the shop owner.
The trip to the dive site involves sailing down a river then crossing a sand bar into the ocean. The waves coming in were quite large but we got out without any problems.
When we reached the dive site we finished kitting up and entered the water. Lovely, it was still 23C so it was a nice warm entry.
I was buddied up with Kevin, and we started our descent. I was in trouble with equalisation as soon as I started going down, and could not get my left ear to clear. Jo and our guide passed Kevin and I, and despite several ascents attempting to clear my ear I just could not equalise.
I sent Kevin on with the guide, and started my lonely ascent up the guide rope, and my ear cleared within about 10m seconds. The rest of the group were out of site, so I just descended the rope and did slow circles around the mooring taking pictures.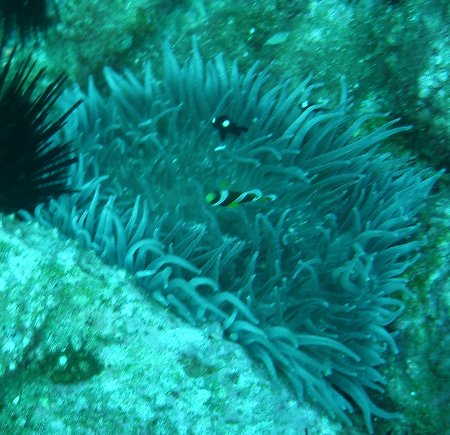 Clown and white spot bull fish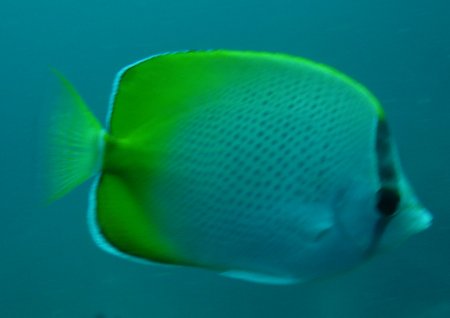 Butterfly Fish
Jo and Kevin had a great dive and saw loads of fish, and about 10 grey nurse sharks. They were both very excited, and looking forward to the second dive.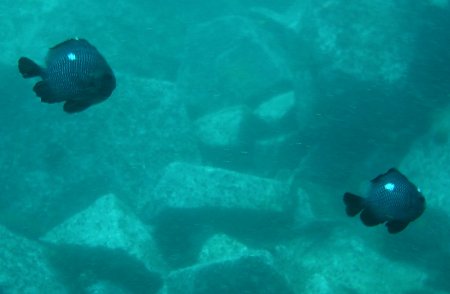 White Spot Humbugs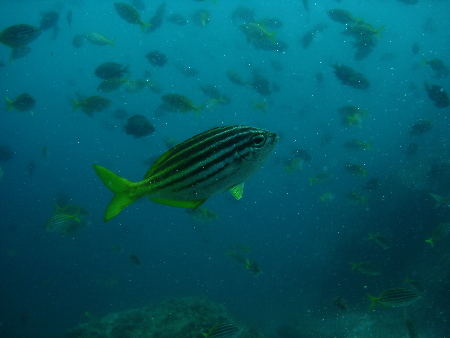 Stripey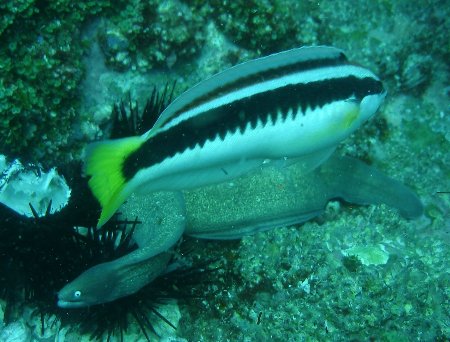 Comb Fish and Green Moray
Jo Diving
Comb Fish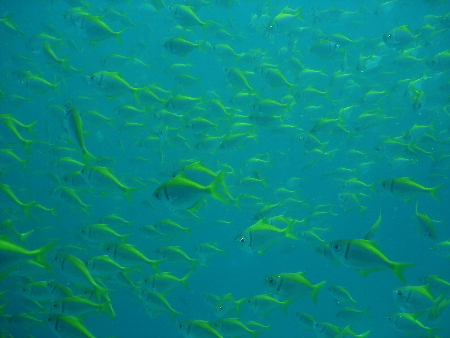 While we were sitting our our surface interval, Kevin got some teasing from the dive guides, and ended up getting thrown overboard three times. If I had done this to him we would have had buckets of tears, but he was laughing and enjoying the attention. The boat captain decided to take a dive while we were all on the surface, and used one of the second dive tanks, so Kevin also ended up swimming to the other dive boat to collect a spare tank. His reward for that was 3 shark teeth collected at the dive site.
A couple of turtles came to the surface to eat Jelly fish while we were sitting on the boats.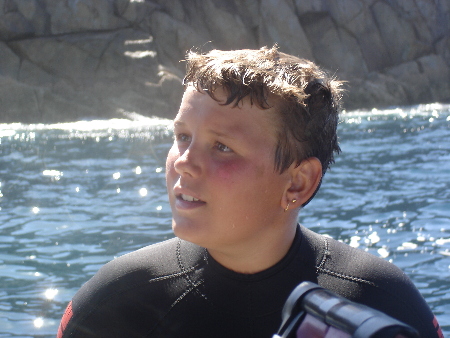 Kevin between dives
Happily my ear problems were over, and I was able to do the whole dive. We saw so many creatures that we cannot list them all. This was also the deepest dives they have ever done, and the first cave penetration dives they have done.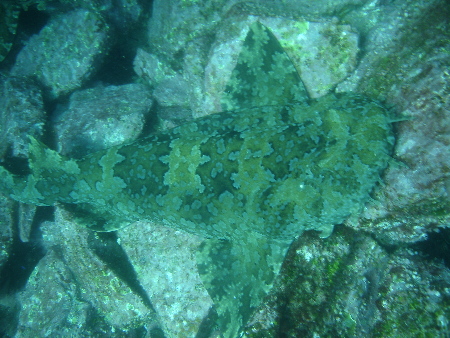 Wobbegong Shark
Shoal of Bulls eye fish in Cave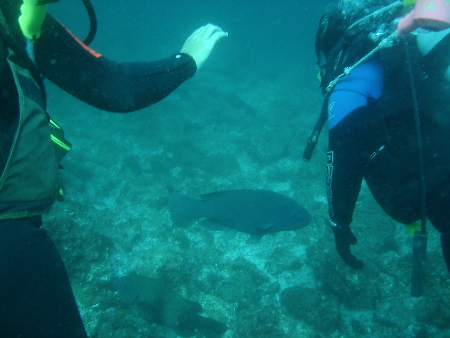 Jo and Kevin with a blue grouper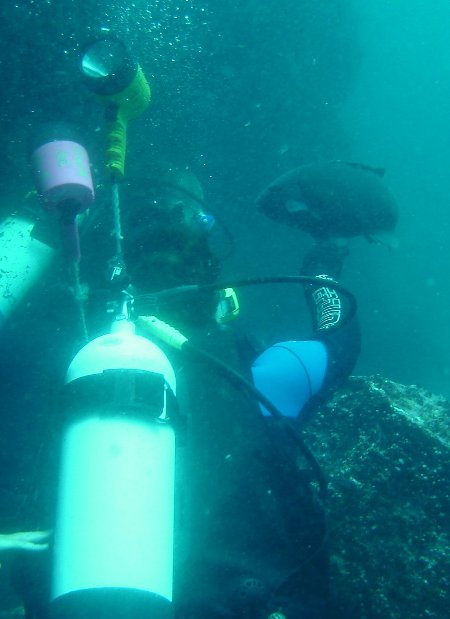 Jo and Blue Grouper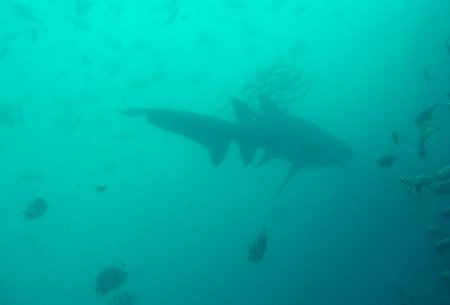 Cruising Grey Nurse Shark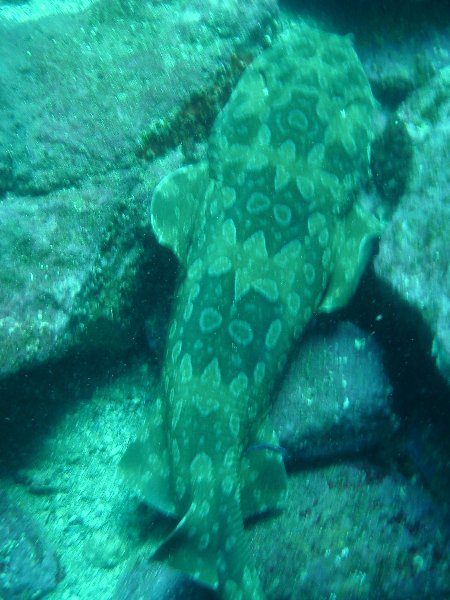 Wobbegong Shark
At the end of the session both Jo and Kevin said it was their best dives so far. Jo saw dolphins on the way home so she was even happier.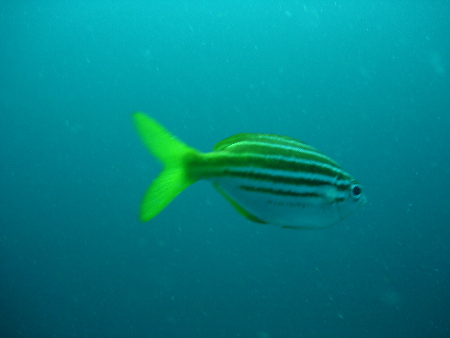 Stripey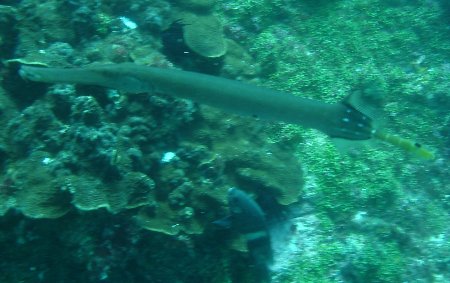 Painted Flute Mouth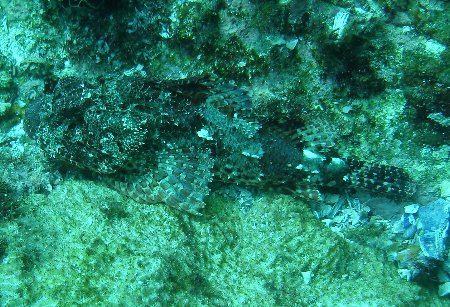 Lion Fish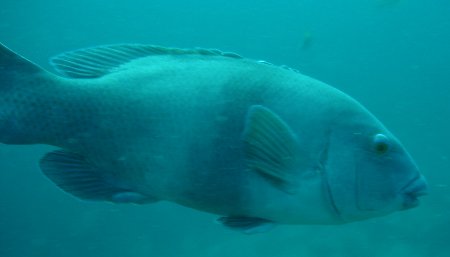 Blue Grouper
Once back on land Jo and I went for a walk. We saw several more wild kangaroos, and several different birds, and found a mangrove lagoon right behind the camp site.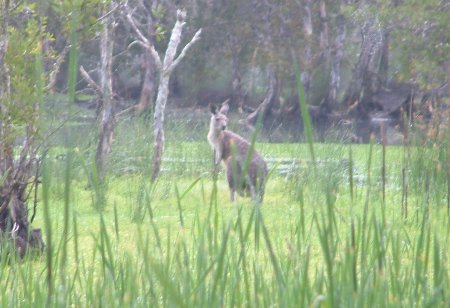 Wild Kangaroo
Creatures seen: Kookaburras, Painted Flute Fish, Anemone fish, Wobbegong Sharks, domino fish, bulls eye fish, Clown fish, moorish idols, lion fish, butterfly fish, wrasse, stripeys, grey nurse sharks, turtles, moray eels, damsel fish, nannygai, bat fish, comb fish, gropers, silver drummers, white trevally, snappers, goat fish, zebra fish, crested morwong, white spot humbugs, kangaroos and kookaburra.
Distance travelled: by car 20kms, by boat 20kms
Tuesday 6th March 2007 - Day 47
Woke to a very damp camp this morning. There is rain all the way up the east coast so we can do nothing except sit it out. Kevin woke early, but instead of getting his homework done decided to play computer games - KIDS!!!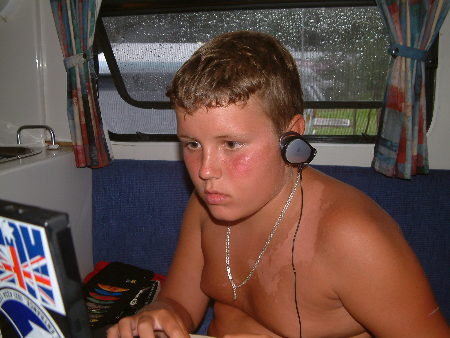 Kevin has a lot of homework to catch up on, and Jo is feeling wiped out (she has just halved the dosage on her tablets and it is leaving her very tired). So she is flat out on the seat beside me.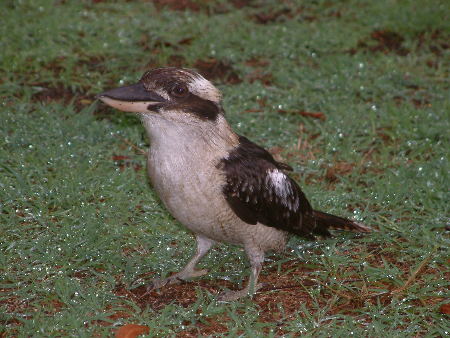 Kookaburra in the rain beside the camper
Good (if rather expensive) internet connection here, so I am catching up with as much work as I can, while helping Kev with his homework and in between listening to him whinge.
Did the shopping yesterday so I don't need to move the van today.
Creatures seen: Wet Kangaroos and Wet Birds
Wednesday 7th March 2007 - Day 48
Struck camp at 8am, and hit the road. The weather here has closed in and threatens to be bad for a few days so we are heading south again.
We were going to stop in Port Macquarie, but we saw what looked like nice sites beside the beach a few kilometres down the road so we continued our journey.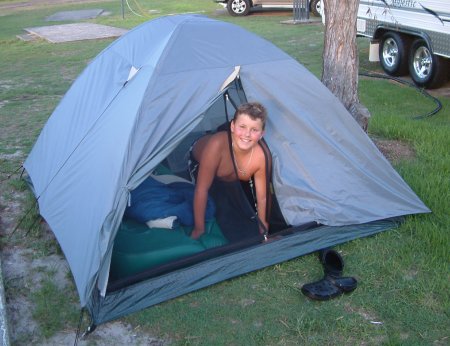 Kevin in his tent
We stopped in a little town called North Haven. The local RSL/Bowling club has daily specials for lunch, so we had chicken curry and rice for just $6 each.
On the way back to the camp we stopped at a bait shop so Kevin could get some bait, then he went off fishing for the afternoon. He didn't manage to catch anything, but a guy he was fishing with gave him a few fillets for him to cook for tea.
The beach is long golden and almost deserted.
There is no diving here for a few days, so I have horrified Jo by giving her a load of leaflets for country walks.
Spent the evening with Kevin playing catch up with his homework, and Jo and me playing cards. No internet connection here, so I will be out of touch with people for a couple of days.
Distance Travelled: 119kms
Creatures seen: Lorikeets, Honeyeaters, stone curlews, pelicans, cormorants
Thursday 8th March 2007 - Day 49
Woke this morning to torrential rain, so we decided that we should let Kevin catch up on some more of his homework (we are so kind!)
Jo and I spent the day trying to help him translate geography questions to English so we could help him sort out the answers, then we did the same with maths.
We had to take a couple of breaks as his attitude was driving us mad, so we went to the local bowls club for lunch again, then I got my hair cut, then we went for a walk along the beach.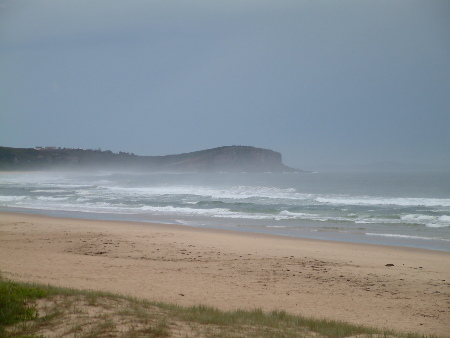 North Haven fish in the rain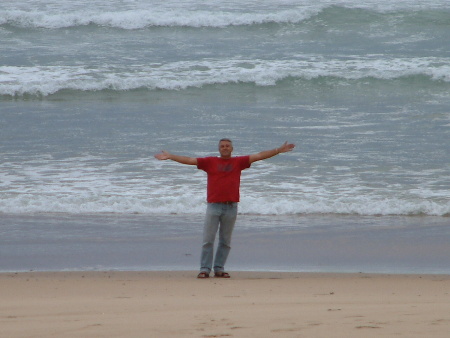 David on North Haven Beach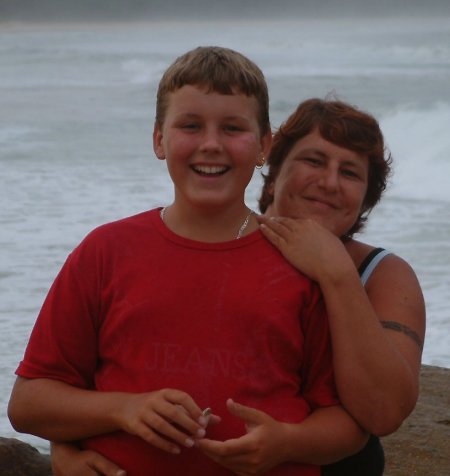 Jo & Kevin on North Haven Beach
Crabs on the breakwater on North Haven Beach
We got some good photographs of some of the Pelicans here, they seem to be eating seagulls in some pictures, and talking to them in others.
Pelican Instruction his class of Seagulls, not sure of the topic of the lesson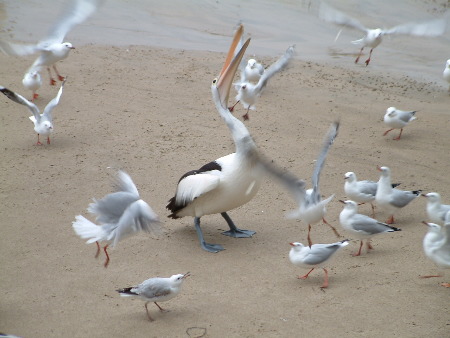 Pelican telling his class to fly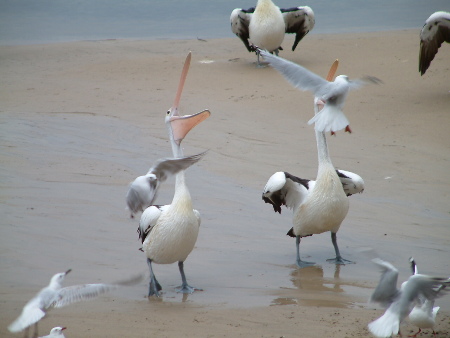 Pelicans eat seagulls?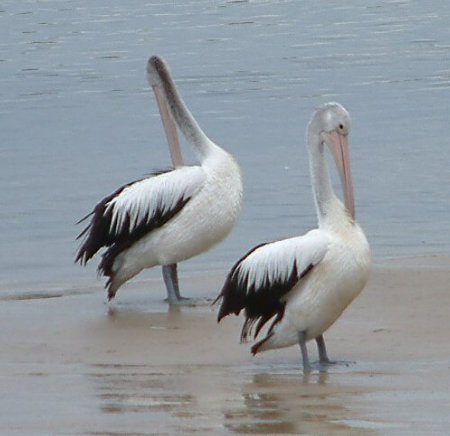 Well fed Pelicans, no seagulls!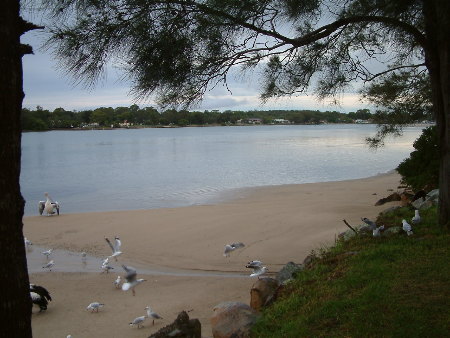 The river Haven at North Haven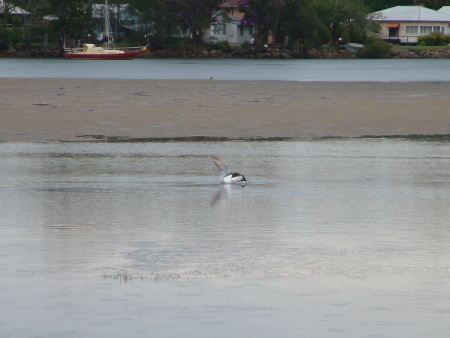 Pelican on the river Haven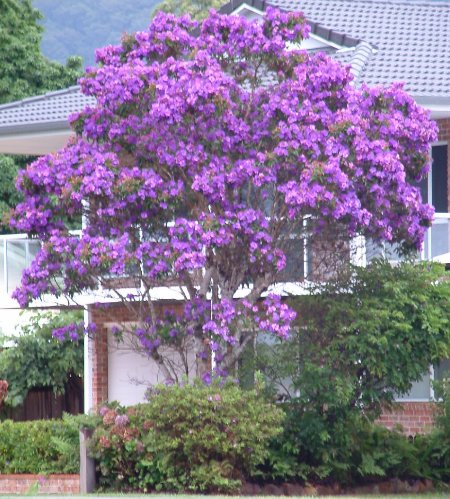 Bouliagana Tree
In the evening we went to Woolworths to do some food shopping, then to Port MacQuarie for dinner in a Mexican restaurant. The table mats were all in Spanish, so we thought the staff would speak Spanish, but the only person who does is the owner and he was not there.
Distance Travelled: 98kms
Creatures seen: Lorikeets, Honeyeaters, Pelicans and Seagulls.
Friday 9th March 2007 - Day 50
Another very overcast day, nothing doing on the beach or in the water, so I sugested a trip into the rain forests and look at nature reserves and waterfalls. Got a muted reception, but we headed off inland where the weather looked a bit better than along the coast.
We were driving along highway 8, when the road got narrower and narrower, and then the bridges went from concrete and steel to wooden structures.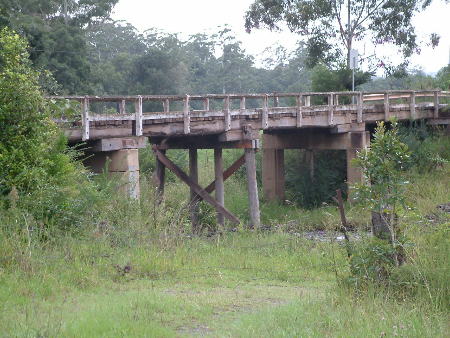 Bridge on Highway 8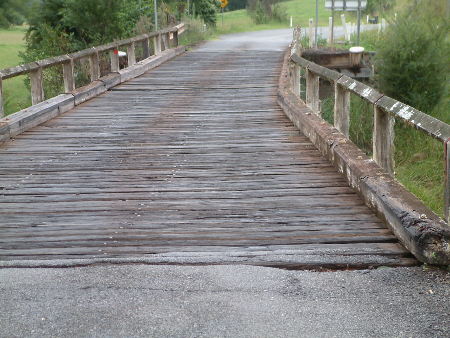 This one was a nice solid one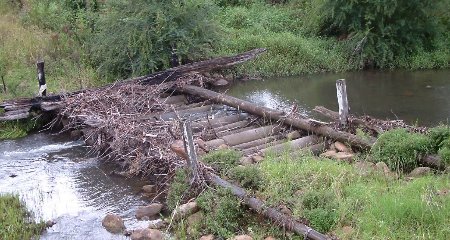 This was the crossing that the picture above replaced.
Not long after we took the pictures above the road started climbing, then the tarmac ran out, and we running on an unsealed dirt road (whoops, don't tell the hire company - they gave strict instructions that we must not take Matilda off road)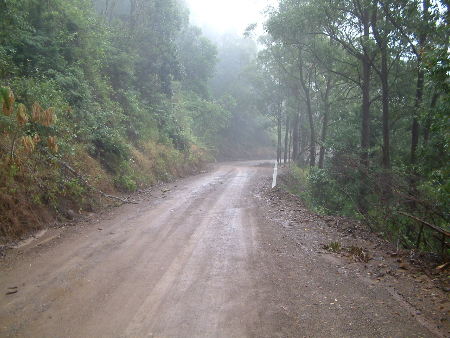 We had no warning that the road was going to turn into a dirt track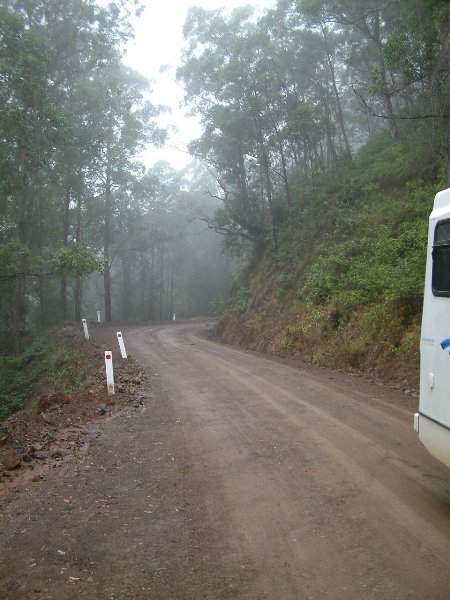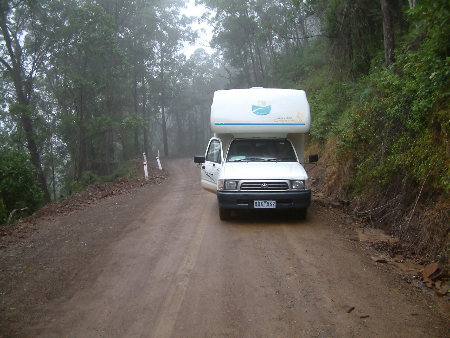 Matilda in the rainforest
We were heading for an area called Wilson River Reserve, but when we got into a little town (roads all nicely paved) in the centre of the forest we were told that the book was wrong, and that the reserve was about 100kms North of where the book said!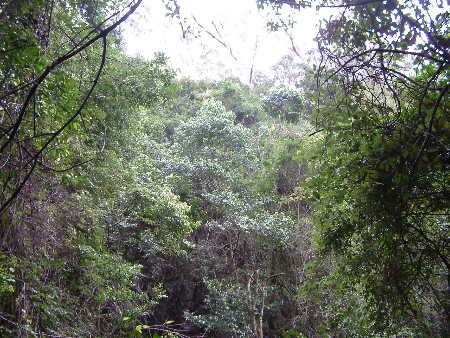 A gap in the canopy of the rainforest
They pointed us in the direction of some other waterfalls in the rainforest only 25kms away called Ellenborough Falls. We left town and the sealed road quickly turned to dirt again, but the falls were a nice distraction.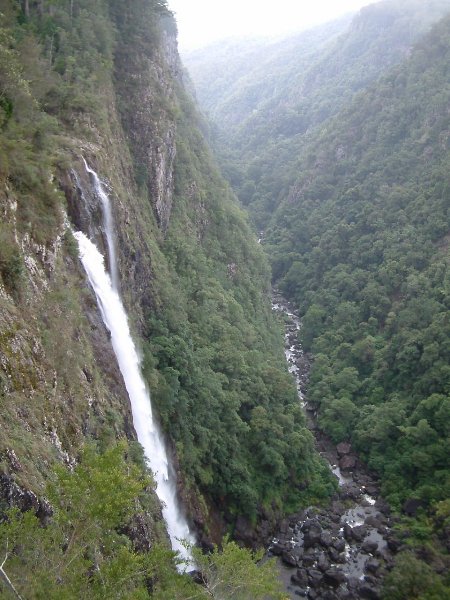 The view from the top of the falls
They are 200m high, and there is a walkway down through the forest to the bottom. So Jo, Kevin and I decided to take the walk. There was a warning that it was a 700 metre walk, with 621 steps. We all three made it to the bottom and back up!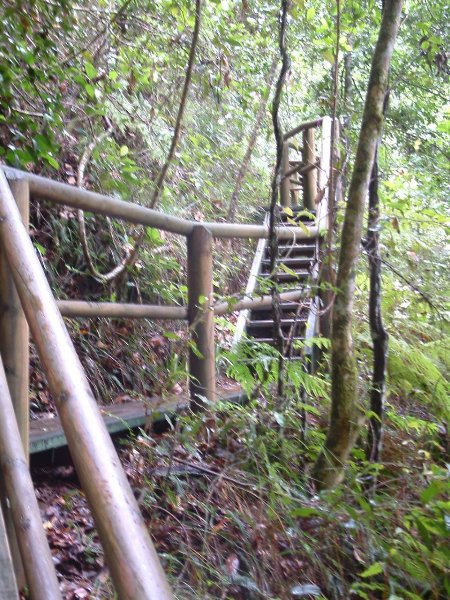 Walkway through the forest
Kevin at the bottom of the falls

The falls were so high I couldn't get them in one picture, so I have joined 3 together to make this picture
Walking down and back up we all got attacked by Leeches. We pulled them all off when we got back to the car park, but somehow one managed to get back into my shoe. When we stopped for a bite to eat on reaching civilisation again, the leech decided it had drunk enough of my blood and let go. Not seeing it I stepped on it, and left a great big puddle of blood, and a series of bloody footsteps on the floor. I didn't have my camera with me, so you are spared those pictures. All we found in the way of wildlife was a little lizard and a scrub turkey.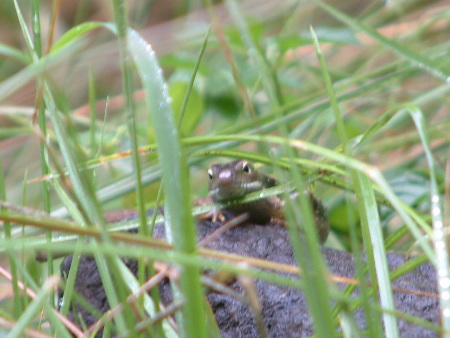 Little lizard at the bottom of the falls.
We headed on back down the coast to a town called Forster, and set up camp. We are staying here 2 or 3 days hopefully Jo and I will be diving on Sunday and Kevin will be going on a fishing trip. The seas are running at about 2.5 - 3 metres tonight, but the forecast is for things to improve by Sunday.
Kevin went fishing at 4pm, we started cooking dinner as dusk, by by 8.00 when it was very dark he had still not returned, so I went walking along the beaches and breakwaters looking for him. He went back to the caravan at 8.30, so I got a phone call to make my way home.
No internet access on this site, but I have found an internet cafe that is open for a few hours on a Saturday morning, so I will be heading there as soon as I wake in the morning (without Jo).
Distance Travelled:
Creatures seen: Pelicans, Scrub Turkeys, Lizard.
Saturday 10th March 2007 - Day 51
A very quiet day, doing house keeping tasks, with a few hours fun in between.
I went to the internet Cafe to download mails, and upload files.
Kevin went fishing until 11.am.
Jo and I did the laundry.
Then we went to buy some nuts and bolts to repair the caravan table which keeps falling apart.
Kevin and Jo were hungry so I took them to McDonalds, and while they got their junk food boost I repaired the table (hopefully this is a permanent fix this time)
We then went to a family fun centre called "Ton o Fun" where we rode go carts, quad bikes, water slides, pedal boats, bumper boats, and took pictures of the dragon flies over the lake.
On the way back we took Matilda to the car wash to remove the mud from yesterdays journey through the rain forest.
Back home we went for a walk along the river bank, then went to hogs breath for dinner. We all over ate as usual,.
Distance Travelled: 28kms
Creatures seen: all the usual birds, plus dragon flies and a peacock.
Sunday 11th March 2007 - Day 52
Got up at 6am, as Kevin needs to be on the dock at 7am for the fishing boat, and Jo and I needed to be at the dive centre by 7.30 for kitting up.
We met the owner of the dive shop, and got on great with him, the shop is a bit of an Aladdin's cave, but the kit was all in good condition, and the boat is great. For some reason I still didn't feel happy about the dives.
We got all the kit sorted, then we had to drive for 40 minutes to the dive site at Seal Rocks, while the skipper took the boat there.
When the boat arrived we put our wet suits, fins and masks on and swam out to meet it.
It was only a 20 minute trip to the dive site, and it was a nice easy trip with no big swells. As the boat was the biggest we have been on since we got here it was also a comfortable trip.
The other divers consisted of a group of Russians from a dive club in Sydney, a Ex-Pat Brit and a German. Oh and the skippers dog - called Skinner.
The dives were fantastic. Over 50 Grey Nurse Sharks swimming beside and above us, along with a few Wobbegong sharks, and thousands of smaller fish.
Had no problems with equalising this time, in fact all I had to do was swallow and my ears cleared. Jo was a bit light the first dive, so I had to pull her under, good job she had her air on, or it could have been murder!
We didn't take pictures on this dive, as the camera would not work. One of the Russian girls is going to burn some of hers onto a CD for us, so we should have some in a couple of weeks.
So, despite my forebodings this turned out to be 2 really good dives, Jo enjoyed them so much she cannot wait to get back into the water.
On our return to Forster we spent an hour searching for Kevin who had decided not to meet us where we agreed.
We then went to the other dive company in town, and booked ourselves 2 dives each for tomorrow, while we were there Nick, the owner, gave us a beer, had a laugh and a chat, and I parted with a couple hundred bucks buying Kevin new fins and mask (so he can stop using Jo's) and bought Jo a new pair of boots.
We went to get some food next, while Kevin went to the wharf fishing. On our return we went down to the river to snorkel. I got all kitted up, but as I am not a strong swimmer decided I had better not get in, as there was a very strong current flowing.
Jo went into the water, and took the now repaired? camera. She snorkelled around for about 45 minutes taking pictures of the life inside the river. While she was snorkelling, a dolphin swam up the river a few yards away.
We returned to the camper at dusk, and sat and played cards until bedtime.
Distance Travelled: 92kms
Creatures seen: Grey Nurse Sharks, Wobbegong Sharks, Lion Fish, Angel fish, (see through fish with lights along the side) websters fish, Humbugs, squid, red scorpion cod, Dolphin, lorikeets, pelicans, seagulls, cormorants, honey eaters, etc.
Monday 12th March 2007 - Day 53
Good start to the day... I looked at my phone to see the time, thought I saw 6.30 so got up and put kettle on, made Jo a coffee then started putting the bed away, It was not until I looked at the phone again and saw it was 6.03 did I realise I had woken Jo at 5.30! Ah well, its nice sitting here listening to the birds sing their morning chorus while I update this log.
Jo didn't kill me, and we went to the dive shop on time at 8am. We kitted up, and met the other people who were diving with us. A couple Sue and Gary who have just emigrated here from the UK, Nick the owner and Paul the Dive Master.
The trip out to the dive site was only 20 minutes, and the bar crossing was nice and easy.
The first dive was a bit messy, as we were dropped into a very strong current, Jo got swept away from the site before she could grab the mermaid line, and was very tired and frustrated when she managed to get back to the line. She climbed back onto the boat and aborted the dive, though when we resurfaced she said she wished she hadn't, as she was fine as soon as she was back on the boat.
Sue had managed to get to the end of the mermaid line, and had a long swim to get from there, the length of the boat and onto the anchor line, she was gasping from the exertion. I was lucky and managed to hold the mermaid line about halfway along, and used it to pull myself back to the boat. After I had helped Jo back onto the boat I grabbed the line along the side of the boat and pulled myself to the front.
Kevin was wearing new fins, while he was waiting at the surface one came off, so I grabbed onto that, then he found the mouthpiece of his regulator was a bit frayed so I had to swap his air supply for him.
We went down about 5 metres, and Nick helped Kevin put his fin on.
The rest of the dive went well, though visibility was a bit poor due to a lot of red weed being swept through the site. We saw a fair amount of sea-life including the wobbegong sharks, a few numb rays, some port Jackson sharks bundled into a small cave with a wobbegong, lion fish, groupers, star fishes and all the usual reef fish. The water has a lot of tiny jellies in it, they come in several different shapes. Some have lighted bands along the side which flash as they swim.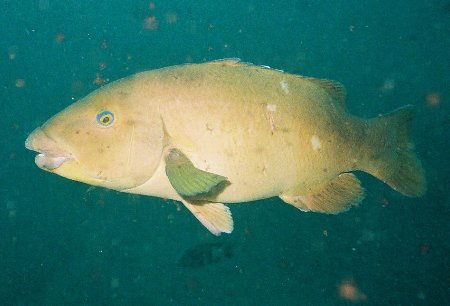 Yellow (Female) Grouper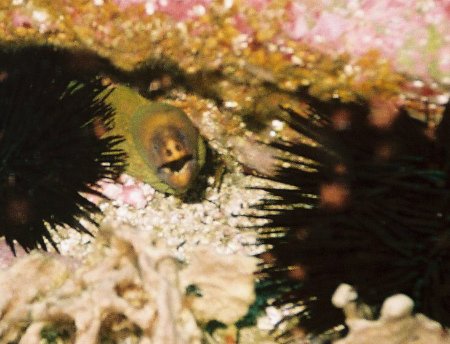 Green Moray Eel saying hello!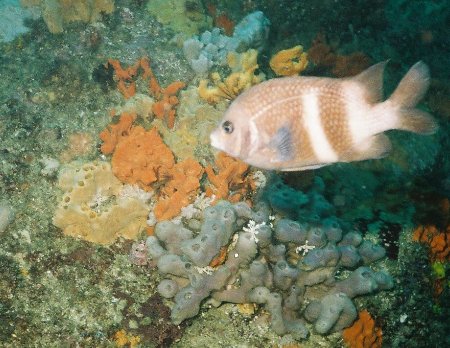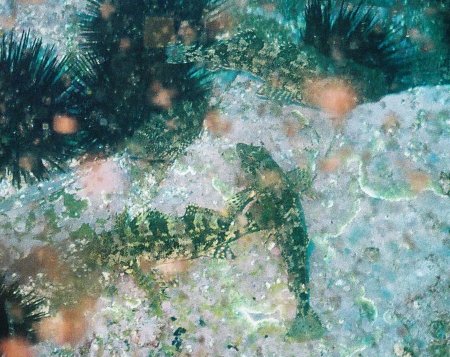 Fish I have not identified yet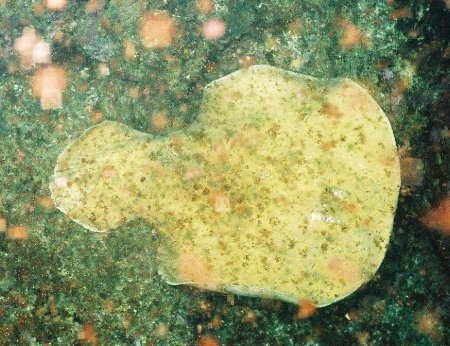 Numb Ray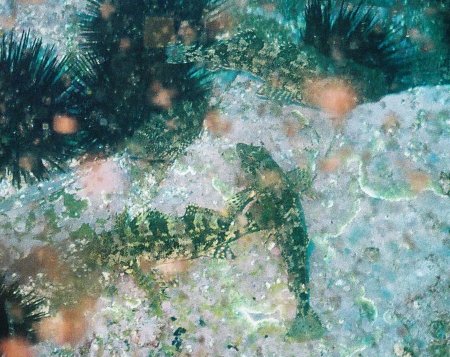 Rock Cod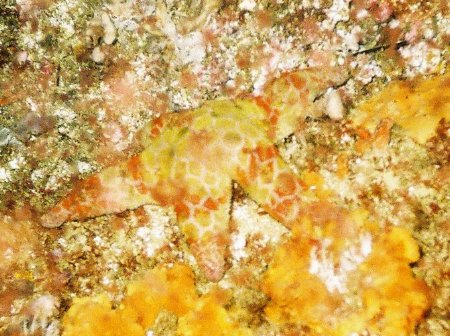 A nice camouflaged Yellow Star - about 20cm across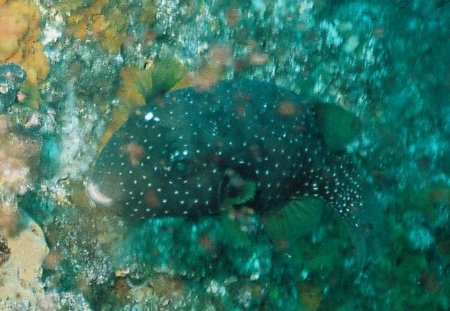 A blue spotted Rock Cod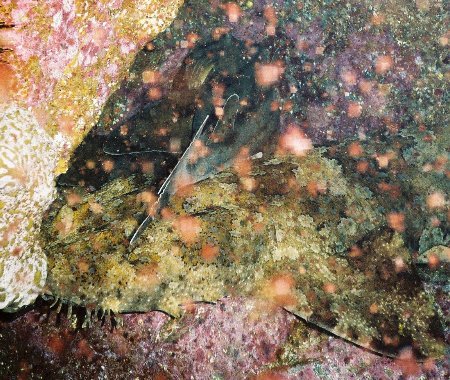 A wobbegong shark at the bottom, with Port Jackson Sharks on top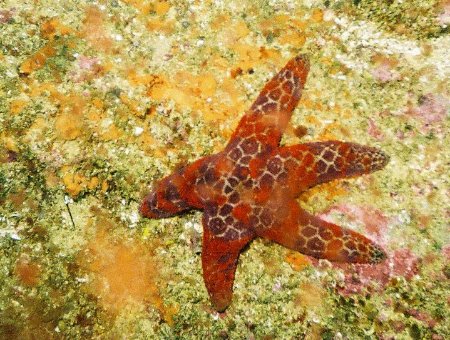 A Red Starfish - about 15cm across
In between dives we went to a calm area where I went snorkelling, saw a few fish, but nothing exciting like a shark. When I had got back on board a dolphin swam past us! Missed by 2 minutes.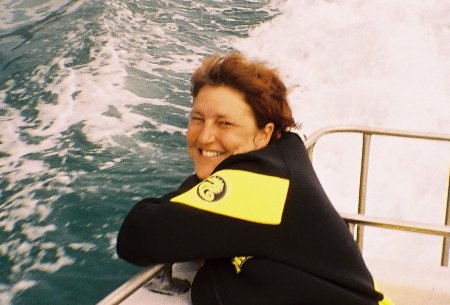 Jo between dives
Our second dive was at "Inner Latitude Reef". The water was a lot calmer, and everyone got to the bottom without incident. We all did a free swimming descent as well, which was a first for Jo and Kevin, as all other dives have been holding onto the anchor/mooring line.
The water was pretty clear, with visibility of about 20-25m. There was a slight surge in places which was fun.
We didn't see any of the grey nurse sharks we were hoping to see, I guess they must all be hanging out over at Seal Rocks. We found a nice little cave with a stack of numb rays looking rather like a pile of pancakes. With 2 adult cuttlefish and several babies, The yellow fish are called "Rough Bullseye"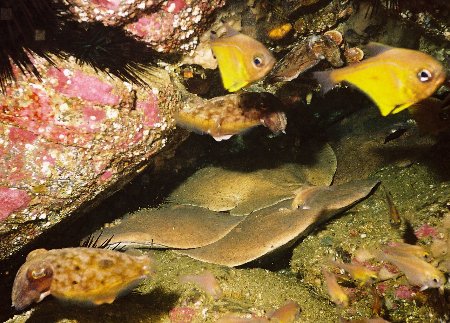 Numb Rays, cuttlefish, Rough Bullseye,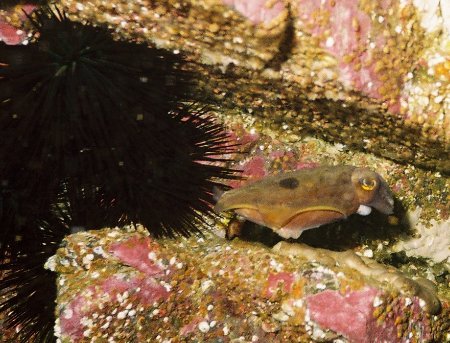 Cuttlefish on patrol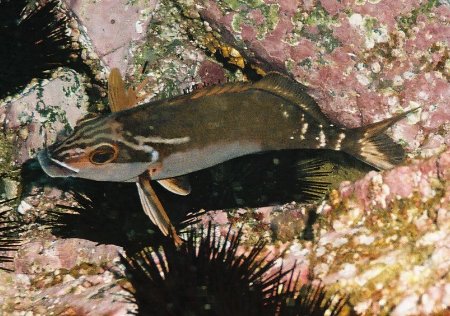 We think this is a Morwong, but we are not too sure, so we call it the "angry"fish.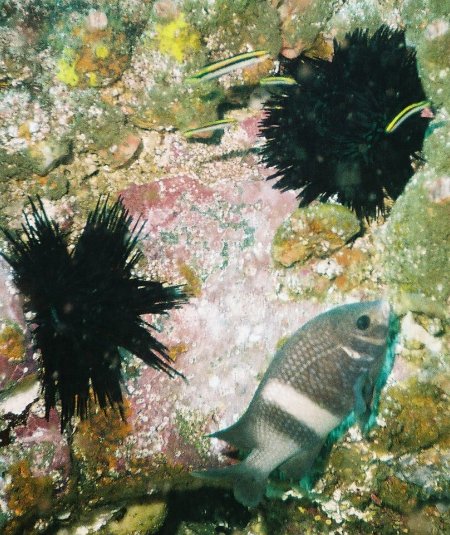 Damsel fish protecting its territory - these fish will try and fight divers even though its only about 10cm long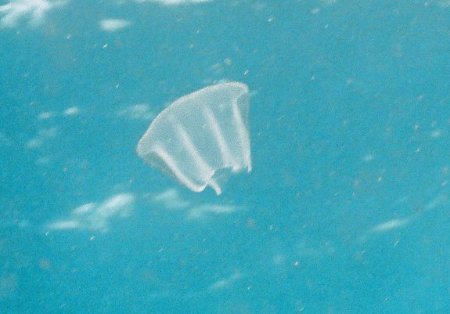 Baby Jelly Fish
Creatures seen: Lots of different fish, Sharks, Dolphins, seagulls, cormorants, pelicans, Lorikeets, Honey eaters, pee wees, crows.
Distance travelled: Land, 20kms, Sea 10kms.
Tuesday 13th March 2007 - Day 54
A quiet day today, just enjoying the weather, and letting Kevin fish. He took out a kayak and explored a bit of the river. He caught a lot of bream, a few leatherjackets, a parrot fish and a few flatheads. As we are not keen fish eaters (we prefer to watch them in their natural habitat) he threw them all back.
Kevin in Kayak
We looked around at a few camera shops to see if we could find a digital camera with underwater housing, but no luck here. We will have to wait until we get to a larger town or city and look for a specialist shop.
We sat on the river bank to eat our lunch, and were soon surrounded by Pelicans and seagulls. Jo soon had the Pelicans coming and eating out of her hand.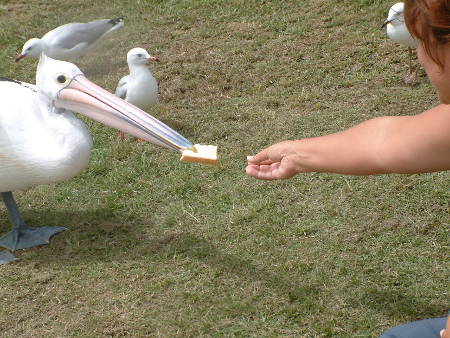 Pelican taking bread from Jo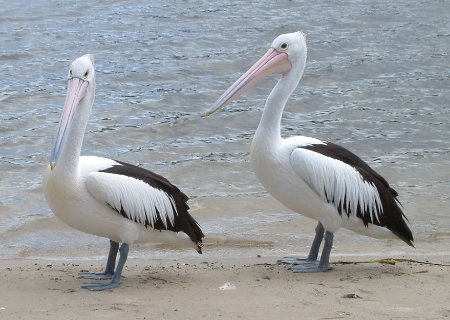 Pelicans
We moved camp to a site which has internet access so that I could do a bit of work. We are also waiting because tomorrow Jo is booked to go diving again. She wants to get some pictures of the grey nurse sharks.
This site has lots of lorikeets, a few white parakeets and hundreds of flying foxes. We spent lots of time trying to capture them on the cameras but it was too dark.
At 8pm we got a message from the dive company that the other divers on tomorrows trip had cancelled, so there would be no diving tomorrow. I called the other dive company, they are going out, but only doing deep dives which Jo is not yet qualified for, so it looks like I will be diving tomorrow.
Distance travelled: 30kms driving around town and shopping.
Creatures seen: Pelicans, sea birds, lorikeets, white parrots and flying foxes. We also saw a few of Kevin's catches.
Wednesday 14th March 2007 - Day 55
Got up at 7.30, and got the van ready for moving. I then called the hire company about extending the hire on the camper. The van was due back at Sydney tomorrow, and we were going to move into a hotel, but we are enjoying our travels and don't want to return to Sydney yet. The company has let us extend the hire until next Wednesday morning, we will then go straight to the airport from there to fly back to Spain.
Went to the dive shop at 9am, and found out that due to the currents, the deep dives have turned into shallow dives and the company is diving at "Latitude Reef" (where we dived on Monday). The dive master assured us that the sharks will be visible today.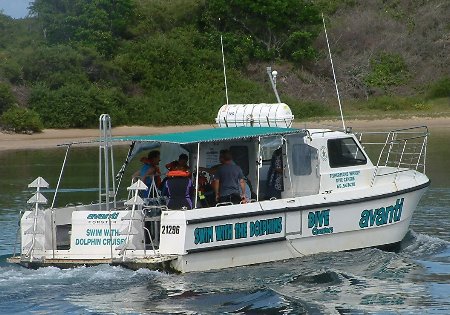 Jo on dive boat (at back in purple and black with red life jacket)
As the dives are now shallow dives I have let Jo go, and I am writing my journal while fielding questions from Kevin who is doing his homework.
---
In Australian parlance, bugger, bugger, bugger.
Jo did her 2 dives, but there were no nurse sharks around. The camera stopped working again as well, so she would not have gotten any photographs anyway.
When I took the Camera apart this time it was in brilliant sunshine, and I spotted the cause of the problems right away, it took 2 minutes to fix, and we tested the camera and it now works great!.
We went and got some food for dinner, then returned to the site where I helped Kevin do some more homework while Jo went to lie by the pool and catch a few rays, Kevin soon went to join her, which meant that Jo was soon in need of rescue. We sent Kevin off to fish while Jo took a nap to recover from her morning exertions.
Loon on a post reflected in flat calm lake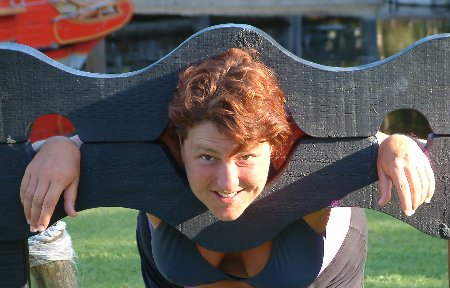 Jo in the stocks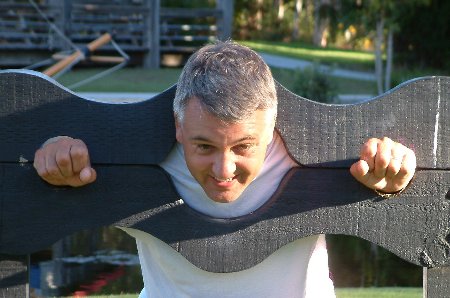 David in the Stocks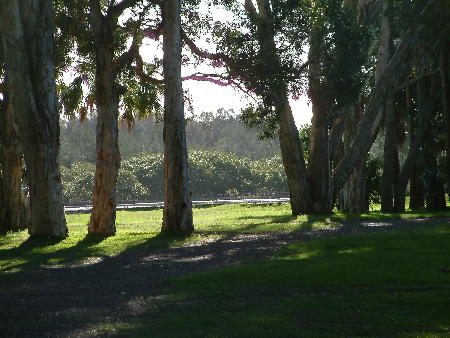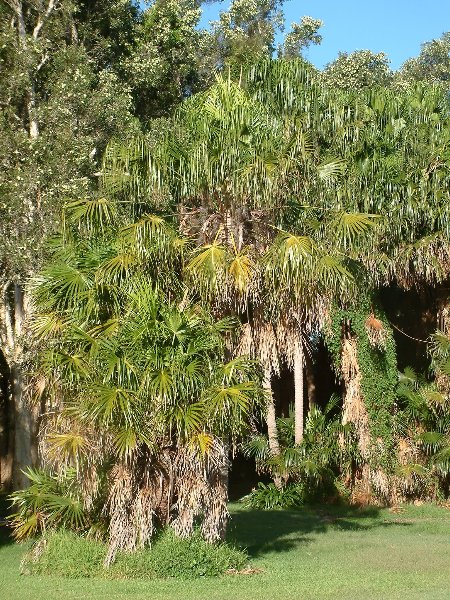 Pretty Trees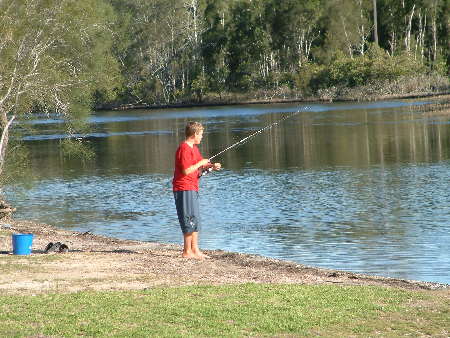 Kevin Fishing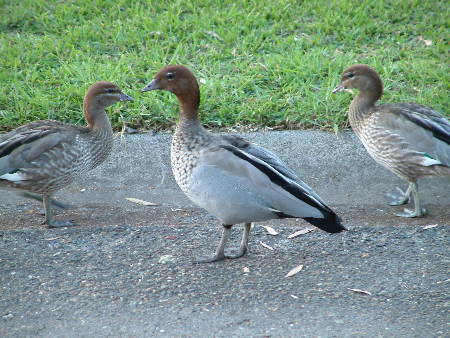 Ducks in the camp site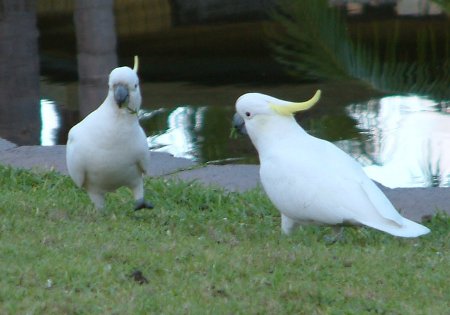 White Cockatoos
We had a nice quiet evening at the site, trying to get pictures of the birds.
Distance travelled: On land, 8kms; on water 10kms
Creatures seen: (us) White Parakeets, lorikeets, flying foxes, pelicans, (Jo) wobbegong shark, big loggerhead turtle, Port Jackson sharks, "angry" fish, Damsel fish, white eyed moray, Southern fiddler ray, shovel nose ray, numb rays, cuttlefish, silver bream, female and male groupers, comb wrasse, stripeys, sand flathead, red rock cod, damsel fish, lots of different kinds of wrasse, nudibrancs, surgeon fish, banner fish, bulls eye fish, goat fish,
Thursday 15th March 2007 - Day 56
Left Forster and drove to Nelson Bay. We need to start heading back towards Sydney ready for our departure next week.
Nelson bay is beautiful, Its a bigger bay than Sydney, with loads of small bays with sandy beaches. Much of the bay is a protected Marine Park which is great, as the waters are full of fish.
In the winter months its a great place to come Whale watching as they pass very close to the headlands on their way north to calving grounds.
While we were checking in we saw a Kookaburra sitting on top of a statue in the reception garden. This is different from the others that we have seen as it has blue wings.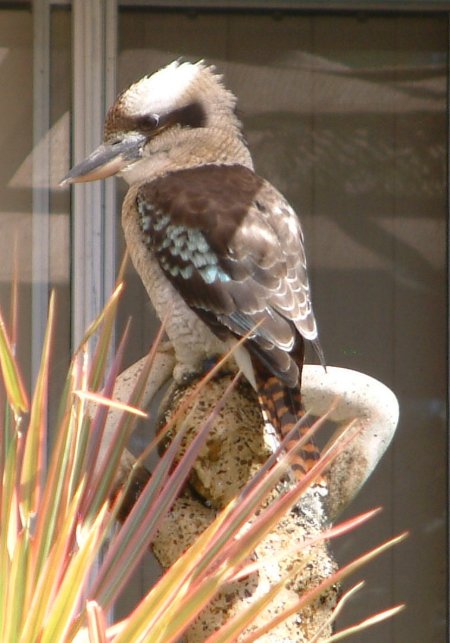 Blue winged Kookaburra
After we found a camp site we went into the town to do some shopping, and then went and snorkelled in Shoal Bay which was joined to the camp by a short path.
Distance Travelled: 188kms.
Creatures seen: Lots of the same birds as yesterday plus a blue winged Kookaburra, Jo saw lots of fish while she was snorkelling, I only saw a few small whitings.
Friday 16th March 2007 - Day 57
We decided to have a day of excitement, and booked ourselves a trip on a 400hp Speedboat ride.
The ride was 45 minutes long, and on most days would have involved lots of wave jumping, just our luck, the lakes and ocean were flat calm, and we only got about a dozen good jumps where the boat fully left the water.
On the return trip to the harbour we were crossing the bar when we started seeing dolphins. We slowed right down and drifted in the waves over the bar and watched the dolphins surfing through the waves. We must have seen well over 20 dolphins, some with baby calves swimming beside them - that alone made the trip worth the money.
We explored the marina for a few minutes, and had a pizza called fat Tony and some wedges, Then we returned to the camp site and Jo and Kevin went snorkelling again while I went shopping.
At the boat ramp beside the camp the fishermen were cutting up their catch, they were surrounded by about 30 huge Pelicans all waiting to get their share of the catch.
Back at the site I got into a strop and went on strike, so Jo and Kevin cooked dinner for me, which we sat and ate in the BBQ area with a crowd of older people who appear to meet up every year for a reunion. In the kitchen area we were visited by some flat flying beetles.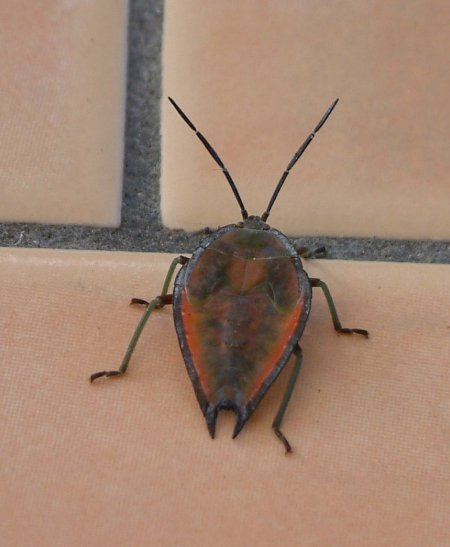 Flat Flying Beetle
We saw a different kind of bird tonight, they are like little old ladies in Pink Dresses, Grey Coats and White hats. I managed to get a couple of good pictures of them.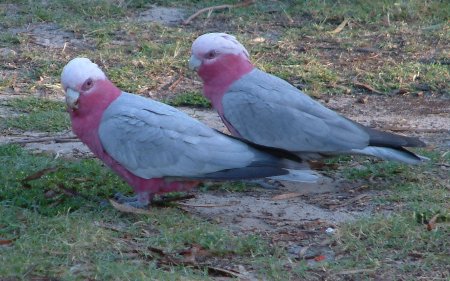 Pink Parrots
After dinner we played cards until bedtime.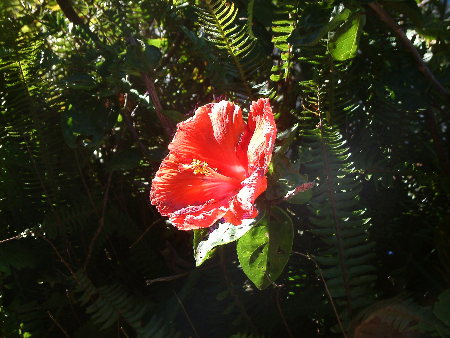 Flower in the camp site
Distance Travelled: 188kms
Creatures seen: Pink Parrots, Flat beetles, Dolphins, Pelicans,
Saturday 17th March 2007 - Day 58
Left Nelson Bay and drove to The Australian Reptile Park. This was the first place Kevin wanted to visit when we left Sydney, but as it was raining when we passed it we decided to leave until we were on our way back.
Kevin has a fascination for snakes, Lizards and spiders, and is nagging us to let him have one as a pet when we return to Spain. His room is big enough, so I guess we will have to work something out when we get home.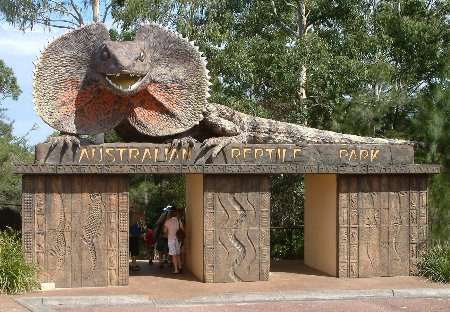 Jo and I were hoping that they would still have a Platypus, as all the other parks no longer have them due to the difficulties in keeping them. When we got into the park we were pleased to see they did, and it was the first place we visited.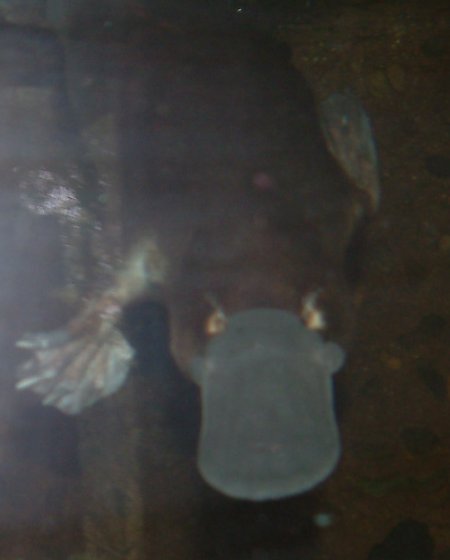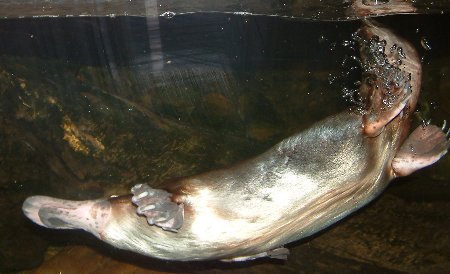 Duckbilled Platypus
The pictures didn't come out great as we were not allowed to use flash, and he was moving very fast.
We left the park at closing time and went looking for a camp site. We looked in all the guide books and found 2 in the town of Woy Woy just a few minutes from the park. We drove around for ages, but could not find them. In the end I went to the police station and asked where they were. Very helpful young policewoman told me where they were, photo copied maps for me, and recommended one above the other. It turned out to be the most expensive site by far at almost double the rate of all the others $60AUS for one night.
When I left the police station I was walking past a bakery who was just about to close, so I grabbed a loaf of bread and asked for 3 cakes. The girl was just closing so she piled 2 big bags with all the reamaining cakes! For 2 dollars we had over 10 big yummy cakes to feast on. Got me out of trouble for not finding the site earlier.
Distance travelled: 227kms.
creatures seen: roos, snakes, spiders, crocs, koalas, platypus, loads of different birds, emus, turtles etc.
Sunday 18th March 2007 - Day 59
Today we thought we had better see some original Australian culture. The guide books showed some aboriginal sites nearby, so we decided to go and investigate. We went to a site where there are about a dozen Aboriginal Rock Carvings. These are scratched out of an exposed piece of fairly level rock, and consist of depictions of people fishing. I was surprised that apart from a raised wooden pathway to stop people walking on the engravings nothing had been done to protect them from damage by weather of vandals.
The weather was horrible all day. So we just drove around the area looking for anything different to do. We found some waterfalls which were fun to climb.
went to first camp at the entrance
found strange stars on beach
Monday 19th March 2007 - Day 60
Sorted everything out
packed our belongings - managed to get into 5 bags (we arrived with 4), got rid of tent, air bed, towels, storage boxes, boogie board, I threw away almost all my clothes and have now got 3 shirts, 1 pair of jeans, 0 shorts, 0 swimmers, and 1 pair of sandals so I am returning with less than I arrived.
Went to beach, saw stars, crabs, octopus and wading bird
Tuesday 20th March 2007 - Day 61
Drove to a camp site just outside Sydney, about 8kms from the airport.
Had a quiet day just chilling and walking along the beach.
Distance travelled: 111kms
creatures seen: cockatoos, lorikeets and honeyeaters
Wednesday 21st March 2007 - Day 62 - Last Day in Oz
Scrubbed caravan floor, and washed walls, drove Kevin and Jo to the airport, then headed back to the hire company with the van, and went to a detailing company who managed to make the van look better then when we headed out.
Got a lift back to the airport from the owner of the hire company. While we were waiting to check in I found an abandoned bag, security very lax here, I reported it to a security guard, a check in clerk and an airport policeman, all looked at me as if I were mad to be bothered. Its so different from the UK, USA and most other countries I have visited. I had to report it 3 times before anyone did anything, it took about half an hour to respond.
Set off back to the UK on time.
We are sad to be leaving Oz, but glad to be heading to our home comforts for a while.
We will be back.....